Italy Email Database FAQ
What is an Italy Email Database?
An Italy Email Database is a collection of email addresses and related contact information of individuals or businesses in Italy. It provides a valuable resource for marketing campaigns, lead generation, and communication with a targeted audience in Italy.
How do the costs break down for an Italy Email Database?
The costs for an Italy Email Database can vary depending on factors such as the size of the database, the quality of the data, and the provider. Typically, the costs are based on the number of email addresses included in the database and any additional features or customization options offered by the provider.
What value can businesses derive from an Italy Email Database?
Businesses can derive several benefits from an Italy Email Database. It enables them to reach a targeted audience in Italy, promote their products or services, generate leads, increase brand awareness, and foster customer relationships. Email marketing campaigns can be highly effective in driving conversions and achieving business goals.
What are the top methods of Online Marketing with Italy Email Lists?
The top methods of online marketing with Italy Email Lists include:
Sending targeted email campaigns
Personalizing email content for better engagement
Segmenting the email list based on specific criteria
Automating email sequences for lead nurturing
Integrating email marketing with other online marketing channels
What industries benefit most from Italy Email Databases?
Various industries can benefit from Italy Email Databases, including:
E-commerce and online retail
Hospitality and tourism
Food and beverage
Fashion and apparel
Automotive
Health and wellness
Finance and banking
Real estate
How can businesses customize their Italy Email Database?
Businesses can customize their Italy Email Database by selecting specific criteria for the contacts they want to include. This may include demographic information, geographic location, industry, job title, or other relevant data points. Customization options may vary depending on the provider.
Why do businesses prefer Emailproleads Italy Email Databases?
Emailproleads Italy Email Databases are preferred by businesses due to several reasons:
High-quality and accurate data
Extensive coverage of email addresses in Italy
Customization options to target specific audiences
Reliable customer support and assistance
Competitive pricing and flexible packages
Is it legal to purchase Italy Email Databases?
The legality of purchasing Italy Email Databases can vary depending on the data protection and privacy laws in Italy and the specific circumstances of the purchase. It is essential to ensure compliance with applicable laws, including obtaining consent for sending commercial emails and respecting individuals' privacy rights.
Is buying Italy Email Databases a good idea?
Buying Italy Email Databases can be a good idea for businesses looking to expand their reach in the Italian market and engage with a targeted audience. However, it is crucial to choose a reputable provider, verify the quality of the data, and comply with legal requirements to ensure the effectiveness and legitimacy of the email marketing campaigns.
What information does a typical Italy Email Database include?
A typical Italy Email Database may include the following information:
Email addresses
Name
Company name
Job title
Phone numbers (if available)
Address (if available)
Industry
Can I get targeted Italy Email Databases that include Phone Numbers?
Yes, it is possible to get targeted Italy Email Databases that include phone numbers. Some providers offer databases with additional contact information, such as phone numbers, allowing businesses to have multiple channels of communication with their audience.
How often can I utilize the Italy Email Database?
The frequency of utilizing the Italy Email Database depends on your specific needs and marketing strategies. However, it is essential to comply with email marketing best practices, respect recipients' preferences, and avoid excessive or spammy email sending to maintain a positive relationship with your audience.
How can I increase my email subscribers using Italy Email Lists?
To increase your email subscribers using Italy Email Lists, you can:
Offer valuable incentives or exclusive content in exchange for email sign-ups
Optimize your website or landing pages with clear and compelling subscription forms
Promote your email list through social media, blog posts, or online advertising
Use lead magnets such as ebooks, whitepapers, or webinars to attract subscribers
Provide a seamless and user-friendly subscription process
Engage with your audience through targeted and personalized email campaigns
200k Italy Email Database: It's time to go to a vital market to many different industries and all of Italy. However, to traverse between the Alps and across the Mediterranean Sea and reach into the professional world, You need to sell leads. 
We've taken care of all the prospecting for leads, gathered various possible points of contact, and compiled them into a mass mailing list for Italian professionals. 
Our Italy Email Database are organized and maintained through a CSV file for your sales team anytime they require to run local campaigns.
Whether you're selling trendy merchandise in Milan or a service offered by software in Rome, having accurate information about your contacts is a crucial aspect of selling. 
Emailproleads.com Italy email database is verified by a human and is filled with high-quality details your sales team will need to connect: Italian emails, addresses and numbers, names and actual names and job titles and much more!
This is among our several targeted business lists gathered from across the nation. 
It is possible to limit your target audience further to create a custom targeted list of email addresses according to the requirements of your particular campaign. 
Use our list-builder tool to test it out or purchase the email leads included in this already built Italian marketing list and receive the information that can be used for many reasons in just a few minutes!
---
---
---
You Can also learn how email marketing works below (Optional Article below)
What is Email Marketing and How Does It Work?
Email marketing can make a huge difference. If you are new to email marketing, it is important to understand the basics. This includes what email marketing benefits, how to use email marketing effectively, and how do you set up your first campaign.
It's time to make your first steps in email marketing with our guide for beginners!
What is email marketing?
Email marketing is a type of marketing that uses commercial email to build relationships with customers and sell products to them.
A well-designed email program can help you keep your audience engaged and informed about your brand and the products it offers. It will also help you convert window-shoppers to customers and once-buyers into loyal brand advocates.
Email marketing is a powerful digital channel that continues to deliver impressive returns on investment, despite being around for many years.
What are the top 11 benefits of email marketing
It's important to learn about the benefits of email marketing before you decide to invest in it. These are 11 benefits that make email marketing the best choice for digital marketing.
Low cost
Let's begin with the most important part – How much does email marketing costs?
An email list and a basic strategy are all you need to run professional email campaigns. You also need an email marketing tool provider to help you manage your campaigns.
Many professional email service providers like GetResponse offer several plans based on your email list size (number of subscribers).
The GetResponse Free plan, for example, doesn't cost anything and allows you to send unlimited emails to up to 50,00 contacts. It also includes key features such as email marketing, website builder and web forms, and landing pages.
You'll find that certain tools are more cost-effective than others, as you will see with all marketing tools. This is usually due to the type and number of features included in the platform.
In this article, we'll be looking at the top email marketing services and how to choose one. Sign up for the GetResponse free plan if you want to learn while practicing. It offers email marketing tools, limited-time access, and no credit card details.
Complete control
Email marketing communications are yours to control.
You can:
Design your assets (e.g., web forms, emails, landing pages, and other assets)
Decide what type of email marketing campaign to run
Segment your email list to target specific audiences
Tag your contacts to improve personalization
Automate your email workflows to deliver more targeted emails at the best time.
Your email delivery is something you cannot control. Still, if your email marketing best practice is followed and you engage your audience effectively, there's no reason to worry about your emails not reaching their inbox.
Inbox placement: According to the Return-path deliverability benchmark report, the average global inbox placement is 83%.
Precision
Email marketing offers precision as one of its key benefits.
Email marketing campaigns are different from other channels because you target people you know and have their contact details.
They reached you through your contact form on your blog, or they attended a webinar that you hosted or downloaded an ebook you were selling.
They also gave you their contact information and showed you the topics they are interested in.
You also have access to data if you use an email marketing service like GetResponse. This allows you to target even more campaigns.
You can start with the basics and target certain segments such as new subscribers, existing clients, or your most loyal customers.
If you want to dig deeper into analytical dashboards, you can target specific email addresses that clicked on your call-to-action or visited your site but did not convert.
You can also run a/b tests to see which elements of your marketing campaign work best. The subject line, call-to-action, and offer can all be used to determine which elements drive sales and which ones distract from your main goal.
Use it quickly
It is easy to create an email marketing campaign.
You can create your signup forms and email templates with intuitive drag-and-drop editors.
If you don't like the idea of designing, you can use pre-made templates to create your first email marketing campaign.
The preferred medium for marketing
The DMA and Adobe indicate that most people prefer to receive offers and be contacted via email to companies.
These studies are logical since well-designed marketing email messages are relevant and non-intrusive. Emails wait in the inbox, and subscribers decide when it's time to open and read them. They can also opt-out of receiving the content in just a few clicks.
Mobile device users can be reached.
Mobile device opens continue to increase. Our Email Marketing Benchmarks report shows that desktop opens account for 45.69%, followed by mobile opens (34.31%) and webmail opens (20%).
This allows you to reach customers wherever they may be and influence their purchasing decisions. It is possible to integrate your offline and online marketing, e.g., collecting email addresses at events or while shopping in a brick-and-mortar location.
Email is an owned medium.
Digital marketing strategy can be divided into paid, earned or owned media. Email falls under the owned media category unless we talk about sponsored mail. This means your company has complete control over the online channel.
Your email list is your best online marketing asset. It's a huge database of people who are interested in your brand.
Professional email marketing services will ensure that your emails reach nearly everyone on your list, rather than, e.g., Social media is a place where you can't control your organic reach. This is why social media investing too heavily can be referred to as building a house on rented land.
Personalized, targeted communication
It is possible to collect information about your contacts during the subscription process. This data can be used to tailor communication to their preferences and needs. You can use the data to create segments of people with similar traits and send relevant content that builds customer loyalty.
Subscribers will remain on your email list as long they find value in your communications. This is why you can build an impressive email list over time that generates significant revenue.
Results that are easy to measure
Integrating your email marketing software with online analytics tools like Google Analytics will give you complete control over your email marketing campaigns. You can easily add UTM parameters in your emails to see which email, subject, or call-to-action button got you the best results.
In your email marketing tool's statistics panel, you can monitor the performance of individual emails and track user behavior on your site. You can set goals, track conversions, and measure ROI for individual emails campaigns.
Fully automated
Marketing automation allows you to create custom workflows for your campaigns. Drag-and-drop editing is all you need to create an automated email marketing campaign.
Great return on investment
Email marketing continues to bring the highest return-on-investment of all online channels. This is something that we have seen firsthand and which was confirmed in the Smart Insights study (see chart below). All of the above factors are responsible for this result. Your email marketing efforts will be a reliable source of revenue if you manage them properly.
How to choose the best email service, provider
Before we get into the details of creating a successful email campaign, let's talk briefly about email marketing services.
Do you need an email marketing provider?
The short answer is no.
You could theoretically do everything yourself, including creating your signup forms and email templates, segmenting your audience, and sending your emails without any help from email marketing companies.
This process could be a resource- and time-consuming. Email marketing also has technical aspects that marketers don't know about. How to design email templates that work on different devices and clients. How to handle spam complaints or bounces and not be penalized by spam filters
Good news: Most popular email marketing services include great tools, and teams made up of experts who'll help launch your marketing emails quickly and confidently.
How to select the right email marketing service for your business
Although we've only reviewed three tools, you know that many other email marketing platforms are on the market.
FYI: Here's an updated list with the top email newsletter software tools for 2023.
You will need to answer key questions such as:
Who is your target audience?
Why do you want to send email campaigns?
How big is your email list? What will it look like in 6-12 months?
What type of communications do you plan to use?
Which channels and tools do you plan to use?
What core capabilities should your tool offer?
Although it may seem like many questions to ask, there are good reasons for each one.
While some email marketing platforms offer great eCommerce integrations, others are better suited for B2B audiences.
While some email marketing services may be affordable for those just starting, they can become more expensive as you grow.
While some offer amazing automation capabilities, their drag-and-drop email builder can be very difficult to use.
If you already have a tech stack, check if the email marketing platform can integrate seamlessly.
The good news is that many platforms offer free accounts or a trial period to allow you to test them out. To ensure you get the right fit for your company, I recommend testing them out firsthand.
Expanding your email list
Email marketers' main task is to build their email list.
To attract a large, engaged audience, you want to communicate directly with them via their email inboxes.
There are many ways to build an email database. Let's look at the most effective strategies and tools to build a quality email list.
You can read our complete guide to building an email list.
Lead magnets
To convince your audience to sign up for your mailing list, you must give them a compelling reason. People will be happy to get something in return and have the option to reach them directly from their inbox. Lead magnets are a great way to do this.
A Lead Magnet is an incentive you offer in exchange for your visitor's contact information. Lead magnets are most commonly in an ebook or a checklist. But they can also come in many forms.
Landing pages
Many websites and homepages must meet multiple goals. They are meant to be informative for all visitors, so they can sometimes be quite confusing. They are not intended to convert email subscribers. Marketers create dedicated landing pages to accomplish this.
Landing pages can also have different goals. However, one type of landing page is designed to capture emails. Squeeze pages are created to collect email addresses. They provide just enough information for visitors to complete the form, keeping them focused on a single goal.
This is why squeeze pages usually only contain the following elements, sometimes even less:
A headline that promises and grabs attention.
A subheading that builds on the promise
The offer's key benefits and the lead magnet are highlighted below
Sign up form
Other elements that increase the conversion rate, such as social proof and trust symbols, are also important.
They are much easier than a normal website homepage, as you can see. They are so easy to use that they can be used as a website homepage. Although the average conversion rate for landing page pages is close to 6%, getting better results is not uncommon.
Alex Terrier is a jazz musician who also teaches online music lessons. He shares how he achieved a 19% signup rate through free, high-quality content.
Landing pages can be added to your website's navigation. However, marketers collect leads from outside traffic sources like solo ads and paid social media campaigns.
You can learn more about landing pages and how they can be used in list-building campaigns. Also, what are the potential pitfalls? Check out our beginners guide for squeeze pages or how landing pages convert.
Paid ads
Paid ads can be used to drive traffic to your squeeze pages. However, you also have another option to collect email addresses without requiring visitors to leave the current page.
These are known as Lead Ads on Facebook. They're also known as Google Lead Form Extensions in Google. They're also available on LinkedIn as Lead Gen Ads.
Each platform may have its name, but its principle is the same: they allow users to collect their emails easily. It's so easy! The platforms prepopulate lead capture forms with the user's email address.
This greatly increases conversion rates, but it also has its downside. We are most likely signed in to Facebook with our email address, not our business. This makes it more difficult to capture a B2B audience.
Lead ads can produce impressive results. InfoShare academy was one of GetResponse's customers. They captured 1200 contacts in just one month, and the cost per lead was only $0.35. This was achieved by creating a relevant content piece (an IT Glossary Guide) and targeting people who want to become developers.
Segmenting your email list
Email marketing can create targeted campaigns rather than sending out mass emails. Segmentation is the key to this.
Email list segmentation helps identify customers who share similar characteristics and tailor communications to meet their needs. You can increase engagement and conversion rates by making your email communications more relevant.
Not just a fraction. According to the Email Market Benchmarks report data, personalized emails experience an average increase of 19% in click-through rates.
Depending on what type of business you are running and the goal of your email marketing campaign, how you segment your audience will differ. A nonprofit might want to know the average donation size of its customers, while an eCommerce company may be more interested in the segment that has purchased within the last 90 days.
Marketers segment their email lists based on:
Demographic information (e.g., gender, age, income)
Contact engagement through communication (e.g., page visits, link clicks, email opens)
Contact buying behavior (e.g., Products purchased, products added as to cart
Contact stage of the buying cycle
Learn more about how to use contact information to improve email campaigns. Read our Getting started with email segmentation or nine super-easy methods to personalize your emails.
---
---
What's Email Marketing? What are the best email marketing methods?
Marketing via email marketing, also known as the marketing via email is among the digital marketing tools that are of special importance to the field of content marketing…
Digital marketing specialists, whenever they decide to design a Content strategy for a company need to address the question of what role they would like to take in email marketing.
The Supplement to the Email Marketing Tutorial series tries to address some of the most important questions regarding this.
How can you tell the differences between advertisement and marketing via email?
We all use emails for marketing and advertising via email to refer to the same thing.
However, email marketing is more extensive than advertising via email.
In the case of email marketing, the case is that you have an advertisement and want to distribute it to a large number of individuals via email. In these situations, it is possible to violate the ethical code by buying an email banking service.
However, when we talk about email marketing, we are talking about ongoing, two-way communications with actual and potential customers. The relationship starts with the customer's permission and is maintained with his permission. In addition, the messages sent go beyond messages from advertisers.
How can you make an email list ?
In email marketing, there is a two-way connection is built on the level of satisfaction, it's normal to inquire how do I gather the emails of the target audience and clients?
I would like to have an email list of tens, thousands, thousands, or even several hundred thousand people with who I have an email account and who're satisfied with the service. It's not an easy task.
This email-list creation tutorial answers this question and we attempt to provide tips and
tricks for methods of collecting emails and other issues related to satisfaction of customers.
What are the best ways to design newsletters?
One of the tools used in marketing through email is sending out newsletters by email. It is the case that a company distributes newsletters in the format of email to their customers regularly (for instance weekly or monthly).
The design of your work is appealing: You regularly send out messages to your followers and keep them aware to remember your name. Additionally, you may inform your customers about discounts, sales, and events this way.
However, the implementation of an email newsletter isn't an easy task. A lot of emails don't open. Anyone who opens the email might not be pleased with the contents and might not be able to open the email in the future.
So, creating a successful newsletter is not easy. There are many factors that, despite the details, could make the project an unfavorable one.
One of our marketing via email lessons is devoted to this subject:
What is an Email Newsletter ? How can you make it a profitable newsletter?
Nearly every company with a website offers some sort of email-based newsletter.
Of of course, this does not necessarily mean that there are no emails that are successful However, it is more likely that it was an accidental choice.
A lot of businesses, after creating their websites, think to themselves"Now that we have the website, why don't we contact visitors via email to send newsletters?
Simply stated, one of the biggest decisions made in the field of marketing via email is made in this way, and as a result an inefficient method is added to the other operations.
What's an Email Newsletter?
Email newsletters, like the name suggests is a form of email, which is defined as part of a company's marketing email program.
The newsletter emails will be sent out at regular intervals (usually every week or month) for the mail database that includes subscribers and customers. They include interesting and informative information, business news as well as product announcements and sales promotions.
What's the point of mailing emails?
The main reason for the newsletter is to keep the relationship between a company's readers and audience. Every time you mail an email, you are reminding your readers that you're present and have a position in their minds.
What are the guidelines for evaluating the effectiveness of email marketing ?
Many different metrics are utilized to assess the effectiveness of email marketing.
Do a Google Search on Email Marketing KPIs to find an array of KPIs that are a key indicator of performance (KPIs) related to marketing via email.
We have created a sequence of training courses in email marketing for the following factors:
Examine the effects of emailing in email marketing
Which bulk email service should I use?
If you look up " Email Marketing Software " or " bulk email sending " in Persian You will encounter a variety of service providers. They all rival each other in a particular field that is taking over the marketing of emails.
Naturally, the costs of these services differ. In the same way, businesses typically ask about these service providers, then put prices and select the best option.
There are many aspects to take into consideration when purchasing email marketing.
Email etiquette
It can be challenging to transfer emails between one individual and the other such as marketing via email.
However, on the other side, when we add our email marketing courses it is also necessary to provide certain professional and ethical points regarding email communications. To this end, we have created a class on the art of email proper manners.
If it's hard to consider this lesson as part of the email marketing subset while reading it imagine you're studying a course within the. communication skills subset when you read it.
What other lessons were learned from the Supplement that is in addition to email marketing?
Answers to the question will differ depending on what your objective is in email marketing.
If you're content with the simple tasks like making an email list and mailing out newsletters this email marketing course (listed in the final paragraph of this post) can be sufficient.
Send newsletters and emails in bulk. Which one should we pick ?
If you send emails regularly and irregularly, you could typically benefit from the basic features provided by a variety of hosting companies without paying additional fees.
Free tools and software are abundant in this sector. If, for instance, you create your website using WordPress technology, you'll discover a variety of free email plugins that can help you get going.
If you'd like to take things a bit more carefully and conduct email marketing professionally, you'll need to be able to outsource the task of sending emails and delegate the job of sending out emails to businesses that are specialization in this field.
Of course, selecting an email service that is bulk isn't easy.
There are a variety of organizations around the world that manage the delivery of emails and provide users with an array of features. The top international companies in this area are:
MailChimp
GetResponse
iContact
CampaignMonitor
ActiveCampaign
mailerlite
Give Specific Details and Data
A testimonial with specific data and details will be stronger. A testimonial that includes specific numbers or details is more persuasive.
Let's take a look at these statements to illustrate the point:
Your course helped me save a lot on my household expenses.
Your course saved me $200 in household expenses within the first month.
Which would you choose to overcome objections? Right?
It is much more precise. He saved $200 and not just "saved money". It's not too bad.
He didn't "save $200", he actually saved all that money within a month. This is even better!
Some results are easier to quantify than others. Let's return to the photography example.
Customer can't say "I'm 30% better at photography than before this course." It's disingenuous, because it's impossible to be certain.
A testimonial writer can compensate for these abstractions by giving specific details in another way:
Thanks to the [creator's] clear instructions, I feel more at ease behind the camera.
Since taking this course, my Flickr account has attracted 200 followers and I have posted new images.
After viewing my portfolio, I received 20 requests for wedding photography.
6. Mention the Creator's name
Although it may seem obvious, many testimonials do not include details such as the name of the creator or their business. Although it isn't a big deal, adding the name to the testimonial makes it more personal.
It's also great for SEO and brand awareness.
Other than your blog or website, you might also post testimonials. The testimonial is lost context if your name is not mentioned in the text.
The author might not be known by the reader so they may just skim it.
People will start to recognize your name if it is added. People become more brand-aware, and are more likely to buy your digital products.
You also want your brand and name to rank on Google. This is essential to brand awareness and organic search traffic.
What if the testimonial is posted on the author's website? And links to your site? This link will add SEO juice to your site, which can improve your rankings. It also provides context to Google if your name appears in the link.
7. Include a photograph or video
As we mentioned, video testimonials are often more powerful than text-based ones. Encourage your customers to make videos if they are interested.
A still image can be used to humanize a testimonial. This shows that the author is prepared to stand behind the review by including an image, full name, and possibly a link to their website or social media profiles.
8. Link to the Website of the Testimonial Creator
Always ask permission to include links. This is possible if there's good reason.
A testimonial that includes a name and a link to the person is not valid. You could also have posted the testimonial yourself. It's impossible to prove that it didn't happen this way.
The consumer is more educated than ever. Because they know that marketers want to sell their products, consumers are skeptical about any marketing strategy.
You will be closer to closing the sale if you can remove those doubts from your prospects' minds.
9. Ask for testimonials
Let's face facts: People are lazy. We don't want to exert extra effort so we don't seek out ways to use more of our time.
It is important to request testimonials.
If they are so impressed by the course content, they might be able to do it themselves. Your brand might have a few passionate fans.
This is a rare occurrence, especially when you are just starting out.
There are many ways to ask for testimonials. It is easiest and most common to include a call-to-action at the end your online course or digital product. This might sound something like:
Let me know if you liked this product! I'm always interested in hearing from customers about their experiences and suggestions to improve.
This not only shows your customers you are open to feedback but also sets the stage for positive engagement. This subtle signal sends to your customer's mind that you are open to feedback.
Similar requests can be posted on your website or social media. Engage your followers and ask them to review your products.
You can also get in touch with us directly. Email outreach is more time-consuming, but it's well worth the effort.
Why? People love being appreciated and singled out. This shows you are willing to go above and beyond for your customers, and it encourages them to give feedback.
This is how an email might look:
"Dear John,
Thank you for purchasing my online course "How to Make a Grilled Cheese Sandwich." It means a lot to be appreciated.
Let me know what your thoughts are about the course. I am asking my best customers to leave testimonials on my website. Your feedback will help me grow my company. You can also send me a link to any other website that you wish, which will help improve your SEO.
Please don't be offended by this. If you have any feedback, please send me an email. I will always be grateful for your support.
John, thank you again!
Sincerely,
Jane
Grilled Cheese Courses
It's as easy as that. It's possible to personalize your email in any way you like, but it shouldn't appear mass-produced.
For 14 days, try Kajabi for free
Kajabi has everything you need for your online business. All the information you need.
Yes! Yes!
Some examples of awesome testimonial pages
Let's now look at some examples of pages with testimonials that have been done correctly, after we've gone over the steps involved in writing a testimonial.
Check out DesignCuts' testimonials page. For businesses with limited resources, the company provides graphic assets and bundles.
This is how the testimonials page looks.
We love that the headings and subheadings reflect the page's purpose. They demonstrate that they value customers' feedback and respect them.
Each testimonial has a photo of the author and the URL. It's great that you have included the URL links.
mHelpDesk is another option, which combines text- and video-based testimony in a visually appealing layout.
"Kajabi
Prospective customers will love the home-video strategy. The text also helps with SEO and prospects who may not want to view videos.
We like the variety. Every testimonial highlights different features and goals as well as problems and solutions that are related to the brand.
Slack is a productivity platform. The "Customer Stories" page, which is titled "Testimonials", does an excellent job at combining different media types to keep prospects interested.
"Testimonial
Each testimonial has great headings. These headings highlight the specific ways in which Slack helped the customer.
Kajabi Can Help You Turn Your Content and Knowledge into Products You Can Sale
Knowledge Commerce is our specialty. Kajabi was born because of this. This platform is ideal for entrepreneurs who want to sell digital products online.
Sign up for our free 14-day trial to see if you don't believe it. Kajabi allows you to play around with its features without any commitment. You can also create your own online course right away after signing up.
We are confident that you will find everything you need in the Kajabi platform. This includes course-creation tools and marketing assets. We add new features every day to make selling for our customers easier.
Use testimonials to boost your business
Testimonials are testimonials that customers share about their experiences with your products. By illustrating social proof, they help prospects make a decision to purchase your digital products.
You have many benefits to asking people for testimonials. You must first learn how to create a testimonial.
Begin by describing the problem you are trying to solve or the goal you want to achieve. This is what you hoped to accomplish when you bought the product for the first time.
Next, you will need to look into background information. What made you so interested in this product? What motivated you to look for it?
The testimonial should focus on the product's benefits and how you overcome objections. It should also include specific details and extras such as the name of the creator and personal information.
These examples can be used to create your testimonials page. Once you have practiced writing your testimonials, you will be able to recognize a great testimonial from a customer.
Remember that customers may not always be able to review your products. Ask them. While email outreach is the best strategy, you can also use social media and your blog to send requests.
A great headline can make the difference between someone clicking through to your article or ignoring it. Although we would like to believe that we don't judge books or articles by the covers, that is not true.
Better headlines will improve your blog's performance more than the articles. These headlines can make your online courses or other digital products more appealing.
What makes a headline great? Writing great headlines will improve your writing. However, you may need a blueprint to help guide you in brainstorming ideas.
We have this for you today. We have 13 proven tips to help you write headlines that work. To give you some ideas, we have also created catchy headline examples.
What is a Headline?
A headline is a brief piece of copy that precedes longer text. It is a shorter version of a title, or name in a document.
A headline is more important than just giving people reason to continue reading. It conveys the value of what you have written or prepared, so that more people will read it.
Headlines are great for many types of content.
Blog articles
Posts on social media
Videos
Infographics
Roundup articles
Podcasts
The search engine result pages (SERPs) have headlines in dark blue. They are the most important text on the page.
People will skip your headline and move on to the next competitor if you don't have one.
The headline conveys value and intrigues readers to continue reading. A headline that works can be influenced by psychological principles, which we will discuss later.
You need to understand that headlines allow people to evaluate your content before actually seeing it. If your headline isn't appealing to readers, many people won't read your article or any other content.
A headline educates, entertains, inspires, or engenders curiosity. The headline promises to solve a problem that the reader is facing, making it almost irresistible.
Why are headlines so important?
Remember the days before the internet? The local newspaper was a popular source of news. However, most people didn't read all articles. They chose the article that was most interesting to them based upon the headline.
Even though electronic media has made it easier for consumers to access information about the world around their homes, this same process is still in place. This applies to all types of information. All types of information are sought by people.
Let's suppose you want to learn to roller-skate. Google might be opened in a new browser tab. Type in your search query.
Some search results may be more appealing than others.
Livestrong.com's "How to Learn to Roller-Skate" guide promises a simple how-to guide. This is what you will find when you click it.
You will then see the result: "Learning to Roller Skate: Advice From a Fellow Newbie."
You might choose one or the other depending on your preferences.
You can make many assumptions based only on the title of an article, or any other piece of content. Your readers shouldn't make the wrong assumption.
13 Tips to Write Headlines that Convert in 2018.
It's not difficult to create headlines that convert. It will become easy and natural once you have some practice.
Understanding the principles behind headlines that work is essential. Your headlines could fall apart if you don't.
Let's look at 13 strategies behind the headlines. This article will use an example: An article about how to learn roller-skating. To illustrate each tip, we'll use an example topic.
1. You should target a keyword with high search volume
You need a keyword that is highly searchable and will get lots of clicks from potential customers. However, you can't just randomly pick a keyword. It is important to do some research.
SearchVolume.io offers a free keyword volume tool. This tool quickly enabled us to compare search volumes for the keywords "roller skate", and "roller skating".
This result shows that "roller skating", which is more popular than "roller skate," is searched for by far more people than "rollerskates." We might choose to use this keyword as our primary keyword.
Exemples
Include the keyword naturally in the headline. It is not necessary to create a confusing headline to target keywords.
You might, for example, find a long-tail keyword such as "roller skating san jose" but a headline like "Go Roller Skating San Jose!" doesn't make any sense grammatically.
Let's look at some examples.
Roller-Skating Tips For Beginners
Best Roller-Skating Destinations In The United States
How to improve your roller-skating skills in just 15 minutes per day
We've only brainstormed a few topics that we converted into headlines using our target keyword.
2. Do some competitive research
After you have chosen a keyword to target, enter it into Google to see what others have written about it:
To see the contents of each article, open it. This is your chance to find out what your competitors have done and then to vow to improve it.
Begin with the headlines. These headlines can be improved.
Exemples
Let's begin with Livestrong's article, "How to Learn To Roller-Skate." It could be improved by adding more details:
How to learn to roller-skate in your driveway
9 Steps to learn how to roller-skate
How to learn to roller-skate like the pros
This strategy allows you to brainstorm multiple headlines or article ideas, and then use them all.
3. Use simple, but powerful language
Powerful words make your headline stronger. Many marketers and professionals in psychiatry have shared their thoughts on the most powerful words in human language. These are:
Freedom
Knowledge
Remarkable
Secret
Explore
Instantly
You
No cost
Each one of these words is different, but they are all powerful for a different reason. They all instill curiosity, intimacy and urgency.
Power words can be used to spice up a boring headline. It's important to make it relevant in context.
Exemples
Let's take three headlines that we created in the previous section, and add power words so they are punchier.
10 Incredible Tips to Learn Roller-Skating
Here are some quick ways to learn how to roller skate
How to learn to roller-skate quickly
You can use power words anywhere you want in your headline, as you can see. You can add multiple power words to the headline: "10 Amazing Tips to Learn Roller-Skate Fastly."
4. Your headline should be useful
If your headline doesn't provide value, it won't be a catchy one. Your readers need to be able to see the benefits of reading your content.
This information can be put into a headline by presenting the reader with a problem, and promising a solution. This can be done in many ways.
Exemples
Let's return to the original example, a guide about roller-skating. This might be your useful headline:
Roller-Skating Tips: Ten Ways to Improve Balance and Form
How to practice roller-skating without falling down
11 Tips to Improve Roller-Skating Safety
Each of these cases addresses a particular problem. We know that roller-skating is dangerous and the reader does not want to take risks so we have provided a solution.
5. Add Attractive Adjectives
It is easy to go too far with adjectives. A headline like this is not what you want: "10 Amazing, Practical Tip for Excited Roller-Skating Beginners"
It is too much. Be sparing with the use of adjectives. A headline should contain one.
Use an unorthodox adjective in your headline. This will elicit curiosity from the reader and keep viewers' attention on your page.
Exemples
The message you want to convey will determine the right adjective for your headline. Some examples might include:
15 Roller-Skating Tips For Beginners
9 Mistakes New Roller-Skating Enthusiasts Make
Basic Roller-Skating: How to Learn
We've combined a noun and an adjective in each example to make it stand out: best tips.
6. Answer the following questions: What, Why? How, and When
Catchy headlines can be created by asking or starting with a question. Consider the questions that real people might ask about the topic.
You might ask several questions if you are interested in roller-skating.
What equipment is most essential for roller-skating
How can you maintain your balance when riding roller-skates
What is the best age for roller-skating lessons?
What is the secret to learning roller-skating?
These queries can be turned into headlines.
Exemples
The best headlines are questions, but you also have the option to rephrase a question into a statement. Let's take all the topics that we have brainstormed and make them into headlines about what, why and how.
What roller skating equipment do you need to learn quickly?
Here are 19 ways to keep your balance while roller-skating
What age should you teach your child to roller-skate?
What's the Deal with Roller-Skating?
We'll bet you'll see that we have incorporated some of the tips we already covered. If you take advantage of headline-writing tips, you can make headlines even more catchy.
7. Make a bold statement
Controversy is the best way to sell articles and other content. You can make a bold statement that is ambiguous and then prove it true in your copy.
Bold statements attract attention and encourage people to talk. This can help you grow your Knowledge Commerce audience quicker. Bold statements can be used to express your views and establish credibility.
Exemples
Although roller-skating may not be a polarizing topic we can still make bold statements in headlines.
Learn to roller-skate will help you meet men/women
You haven't lived until you've gone roller-skating in Central Park
If you don't understand this one fact, you won't be able to learn how to roller-skate.
We made bold claims in each of these statements. We'd need to support them in an article or another type of content.
8. Use numbers in your headline
Numbers can do more than solve equations. They limit what the reader can learn and provide an indication of the article's length.
Research has shown that even numbers perform better than those in listicles. Perhaps we are more comfortable with odd numbers and respond better to them.
If you have only 20 tips for roller-skating don't add a semi-tip or cut an important tip. A great way to make an even-numbered list seem odd is to promise "Plus 1 Bonus Tip".
Exemples
Let's look at how it works to make headlines more appealing.
Do these 3 Things before you start roller-skating
101 Tips for Roller-Skating that Make You Look Like a Pro
30 Tips for Roller-Skating Enthusiasts (plus 1 Bonus Tip!)
9. Ask a strange or funny question
You can go beyond the obvious. We've covered questions that spark curiosity before. Ask a funny or unusual question to get your audience's attention and promise amusement.
For example, roller-skating is a great source of humor. Many people fall their first time trying, and if they don't get hurt, their stories can be entertaining.
Roller-skating is often overlooked in favor of its cousins, ice-skating and roller-blading.
Exemples
How can humor be turned into headlines that pose a funny or strange question?
Are regular roller-skates safe to use on ice?
What are the worst roller-skating failures of the last decade?
What Celebrities Roller-Skate Most?
10. Make a sense of urgency
Marketing across all channels and industries is fueled by urgency. Knowledge Commerce is especially reliant on urgency because it gives your audience a compelling reason for buying now.
However, urgency can work well for headlines in blog articles and social media posts. Not for the sale but for the click, you're not selling urgency.
For creating urgency, words and phrases such as "Quickly," Act Now, and "Last Chance" are excellent. It can also be done in other ways.
Exemples
When writing headlines, the last thing you want to do is create an illusion of urgency. You must keep your promise.
These are some roller-skating tips before you put on your roller blades next.
These 7 safety tips will help you avoid doing stunts on roller-skates.
Start Roller-Skating in 30 minutes per day, Starting Now
Are you ready for the [City's] new Roller-Skating Laws (Effective Nov. 1)?
11. Give your audience a sense of mystery
It's no surprise that crime fiction and cozy mysteries are popular bestsellers at the New York Times. People love a good mystery. They love howdunnits and whydunnits as well as wheredunnits.
This means that if your headline creates a mystery, readers will be compelled click to find out the answer.
This type of headline can be presented in the form a question but it's not necessary. You can also create mystery by creatively phrasing your headline.
Exemples
Let's try to make our article about roller-skating headline compelling enough for readers to click.
A baby roller-skating showed that kids can do anything
Is Roller-Skating a Risky Activity? 9 Reasons Why Roller-Skating is a Failure
How to Avoid This Fate
Here are the top reasons why you shouldn't roller-skate with an empty stomach
12. Use Call-to-Action Words
Consider your most powerful calls for action. They work. How can they be translated into headlines for articles?
CTAs are effective because they provide an order. CTAs give direction and tell the reader what they should do.
Consumers want to know what their next steps are. They are not interested in guessing.
You can also incorporate this language into your headlines.
Exemples
It is easy to transform a CTA into an headline by simply combining some compelling phrases with commonly used headline verbiage.
You can improve your balance on roller skates by using this stretch
Watch This Video To Learn Why Roller-Skating is a Great Exercise
Get this product to improve your roller-skating experience
13. Write multiple headlines and vote for the best
Vote on the best headline if you aren't sure. Ask your readers, team members, and family members to read your headlines, then vote for the winner.
Sometimes we are not the best people to choose something new. We are too close to the situation.
Engaging with your audience by asking them to vote is a great way to increase their engagement. They will be eager to participate in your creative process.
Exemples
Three headline examples might be offered for the same article. You could use variations of these tips and present them to your audience.
9 Safety Tips for Beginner Roller Skating Enthusiasts
These are the best ways to learn roller-skating fast without putting yourself at risk
Skating Safety Tips For Beginners
For writing different headlines, the word groups that work best are
We've now covered the top strategies for writing great headlines. Let's step back and examine headlines word-by-word. It is easy to fill your headlines with words that have no meaning.
It is best to avoid using unnecessary words such as the, the, on and in. These words occupy valuable space in your headline character count.
To make your headlines stand out, focus on the following phrase and word groups. When you receive more clicks than expected, you'll be grateful.
Unique Adjectives
These are adjectives that we don't often see. These adjectives can also be used with a topic that is rarely used. These are some of the best adjectives you can use in your headlines:
Amazing Value
Meteoric
It's blissful
It's irresistible
Little-Known
Outrageous
This is how you get the idea. Consult a thesaurus if you need help brainstorming the best adjectives. Make sure to understand the exact definition of each adjective before you send angry emails to your fans.
Specific Nouns
Your audience will be more narrowed if you are more precise with your nouns. Let's suppose you are writing an article about roller-skaters. This is a very broad group.
By targeting a small portion of your target market, you can narrow your audience and make your article or any other content more targeted.
It is possible to use particular nouns in the headline. Instead of saying "roller-skates", you could use one or more of these suggestions.
Old-Fashioned Roller-Skates
Bulky Roller-Skates
Roller-Skates Racing
Strong Verbs
There are many verbs, but not all of them are strong. Your headline should be strong and inspiring.
You could substitute the term "run" for "scamper," or "dash," instead. Both words are more specific and unique than "run", which is why they are preferred to "run."
These powerful action verbs can boost your headlines:
Construct
Think
Ask
Be the one to conquer
Explore
Master
Take control
Descriptive Introductions
Your headline's first few words will be the most read. Make them count.
A descriptive introduction can bring life to a dull headline. This explains to the reader what the article will be about.
Let's look at some perfectly acceptable headlines.
How to learn to roller-skate
The Best Roller-Skating Rinks In [City] All about Roller-Skating Gear
Let's make them more appealing with descriptive introductions.
Learn how to roller-skate in 51 steps
The Ultimate Guide to the Best Roller-Skating Rinks In [City] The Advanced Roller-Skater's Guide to Mastering Tricks
Positive words
Encouragement is found in a positive word. It makes the reader feel warm and fuzzy. Positive words can be used to inspire clicks and connect with your audience.
They start the article with a positive note. They promise something positive to which your audience can look ahead.
Some examples could be:
The Greatest Roller-Skaters Ever
How to always have your nails turned on roller-skates
Roller-Skating: The Perfect Spin
Negative words
Negative words can still be used. Negative words can be used to press for pain, incite fear of missing out and help readers avoid making terrible mistakes.
A headline could look something like this:
The Worst Roller Skating Mistakes Beginners Make
If you want to stay safe, don't try this roller-skating tactic
After these activities, avoid roller-skating
Kajabi Can Help You Turn Your Content and Knowledge into Products You Can Sale
Kajabi provides all the tools necessary to be successful in Knowledge Commerce. You can sell your knowledge by using a blog platform or an email marketing system.
You must first learn how to create great headlines. Your headlines will be read first regardless of whether they appear in the SERPs, or in your email subject line.
Kajabi is a great platform for experimentation, testing headlines to see if they work, and learning from your failures and successes. You can grow your business by learning from the platform's many mistakes.
Conclusion
Your headlines are often the first thing that people see when they come across your work. Sometimes, they are the first thing people see when they encounter your work.
People will click away if your headline isn't compelling or enticing enough. Consumers don't have the time to waste their time looking for content that is lacking.
This is how you can get around it. Learn how to create great headlines.
Begin with keyword research and competitor research. You want to improve your chances of being found through search engines and to beat your competitors in content creation.
Next, you can move on to the various types of headlines. You can create a sense or urgency, add call-to-action words and convey useful information. To give your headline more impact, you can add numbers or adjectives.
Every word has a meaning. Avoid basic words that aren't useful or convey any information. Your headline can be made more effective by using unique adjectives, specific nouns and strong verbs.
You can use the headline to promote Knowledge Commerce. Before you know it, you'll be selling before your eyes.
Italy Email List
Italy Email List is the maximum accumulation of commercial enterprise and patron contact details at a low-priced cost. The last Database is the Italy mailing list, which is one hundred% legitimate and effective. It is a multipurpose database file; this is unavoidable for the ones doing enterprise in Italy. It's well worth remembering that Last Database is a well-known organization that offers electronic mail lists all around the international. Our email databases are one hundred% reputable and double demonstrated using humans and automated software.
Additionally, we construct a centered email listing based totally on the point of interest areas of our clients. Italy has almost nine million B2C and hundreds of B2C mailing lists. The Italy email list will assist you in putting into effect a successful advertising strategy.
Italy Consumer Email List
Italy Consumer Email List​ No matter what business you've got, Last Database will provide you with an email list that is one hundred% actual and energetic. The last Database has compiled those contact databases from Italy's most popular advertising regions. It would help if you had this to grow income and enhance your email marketing efforts. Our Last Database experts, mainly, have committed to often replacing all of our contact data, which includes email. As a result, inform us of your favored field. It will provide you with established databases. You will get it in Excel or CSV layout after downloading.
Above all, Last Database helps you boost your employer's ROI by offering you established and accurate records. In addition, the modern-day Database created contains not only electronic mail addresses but also customer records. For instance, this includes complete names, cellphone/fax numbers, corporate websites, LinkedIn profiles, geographic addresses, and task designation. Italy's email listing also includes zip code, postal code, and many others. That assists you in building a brand new customer base in your commercial enterprise.
Italy Business Email List
Italy business email listing is the costly B2B advertising facts in Italy. It is essential to mass email advertising and marketing efforts. Also, it's miles the only method to grow the commercial enterprise; it's essential to have a better knowledge of the target market before communication. As a result, you could ship personalized emails to your clients. You will attract and hold customers and establish a relationship of trust. Finally, you can sell your brand by buying us from Last Database. In addition, you may grow your profitability, thus attaining your goal.
Italy Senior Executives Email Database
THE Italy Senior Executives Email Database helps help Italian corporations as well as your own! Once you purchase this Database, you will have a wealth of special sales leads at your fingertips. This isn't just a time-honored list of potential clients; it is full of real names, identities, enterprise categories, smartphone numbers, email addresses, fax numbers, and organization info that you could use to make direct contact with the most critical for advertising. Bell. Our Italy Top Executives Email List is system-scanned and human-proven for accuracy, so you won't waste time sending messages that don't attain their supposed recipients.
Contact category on this Italy Top Executives email listing includes Group President, Group CEO, Group Managing Director, Area Manager, CEO & Managing Director, President & President, President (Partner), Director of Country, Country Manager, Vice President, General Director, Executive President, Executive Director, Financial Advisor, General Manager, Human Resources Coordinator, Managing Director, President and CEO, Vice President, Vice President, and many others.
facts to be had
Name – 2,459
Last call – 2,459
Job role: 2,459
Email deal with – 2,459
Company call – 2,459
Business class: 2,459
Employees – 2,459
Annual profits: 2,459
Website – 1,929
Address – 2,455
ZIP Code – 2,413
Telephone – 2,212
City – 2,435
Country – 2,459
Database of organizations in Italy
€125.00 VAT included
Now you may download the Database of companies in Italy on the fine charge on the market, with the very best pleasant records, in Excel format and flawlessly segmented with the aid of pastime.
Includes 320,076 groups, 320,009 exceptional emails, 279,794 agency phones, and 205,093 employer websites
Download the list of agencies in Italy with a single click.
This Database includes the following fields:
Company name
Business interest
Phone quantity
Italian email addresses
Address in Italy
Fax number
agency internet site
We are so certain that the fine of our databases is excellent that we provide you with a database of companies from Italy free of fee.
You can download your Database of agencies in Italy free of charge without registering, completely free of price, and without giving up your facts.
The loose databases do not consist of contact statistics consisting of electronic mail, website, or telephone; if you want this information, you could download the whole Database of organizations in Italy that encompasses such records in 97% of the statistics.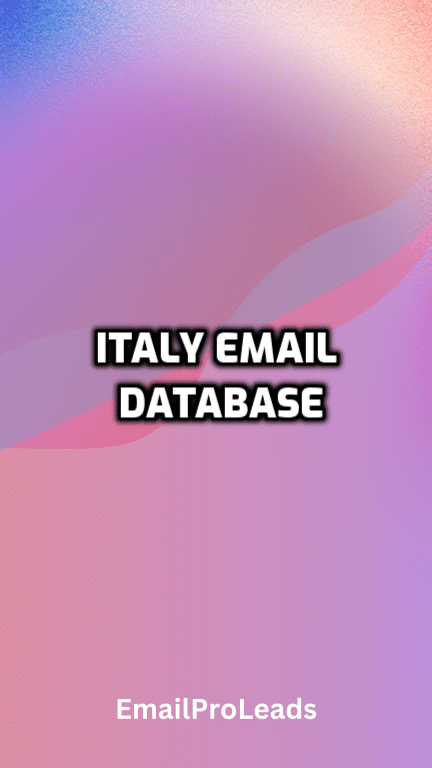 INFORMÁTICA email database – Retail (Italy)
INFORMATICA electronic mail list – Retail (Italy)
The INFORMÁTICA: Retail (Italy) Email Database includes 183 specific facts, all with at least one email deal consistent with the person file, and is transferred permanently, without regular prices or period condo. Along with purchasing the Email Database, you may collect the proper to apply the facts freely.
Purchase also: France Email Database [2023]