What is an Austria Email Database?
An Austria Email Database is a collection of email addresses and related contact information of individuals or businesses in Austria. It provides a valuable resource for marketing campaigns, lead generation, and communication with a targeted audience in Austria.
How do the costs break down for an Austria Email Database?
The costs for an Austria Email Database can vary depending on factors such as the size of the database, the quality of the data, and the provider. Typically, the costs are based on the number of email addresses included in the database and any additional features or customization options offered by the provider.
What value can businesses derive from an Austria Email Database?
Businesses can derive several benefits from an Austria Email Database. It enables them to reach a targeted audience in Austria, promote their products or services, generate leads, increase brand awareness, and foster customer relationships. Email marketing campaigns can be highly effective in driving conversions and achieving business goals.
What are the top methods of Online Marketing with Austria Email Lists?
The top methods of online marketing with Austria Email Lists include:
Sending targeted email campaigns
Personalizing email content for better engagement
Segmenting the email list based on specific criteria
Automating email sequences for lead nurturing
Integrating email marketing with other online marketing channels
What industries benefit most from Austria Email Databases?
Various industries can benefit from Austria Email Databases, including:
Tourism and hospitality
Retail and e-commerce
Financial services
Healthcare
Technology and software
Education
Professional services
How can businesses customize their Austria Email Database?
Businesses can customize their Austria Email Database by selecting specific criteria for the contacts they want to include. This may include demographic information, geographic location, industry, job title, or other relevant data points. Customization options may vary depending on the provider.
Why do businesses prefer Emailproleads Austria Email Databases?
Emailproleads Austria Email Databases are preferred by businesses due to several reasons:
High-quality and accurate data
Extensive coverage of email addresses in Austria
Customization options to target specific audiences
Reliable customer support and assistance
Competitive pricing and flexible packages
Is it legal to purchase Austria Email Databases?
The legality of purchasing Austria Email Databases can vary depending on the data protection and privacy laws in Austria and the specific circumstances of the purchase. It is essential to ensure compliance with applicable laws, including obtaining consent for sending commercial emails and respecting individuals' privacy rights.
Is buying Austria Email Databases a good idea?
Buying Austria Email Databases can be a good idea for businesses looking to expand their reach in the Austrian market and engage with a targeted audience. However, it is crucial to choose a reputable provider, verify the quality of the data, and comply with legal requirements to ensure the effectiveness and legitimacy of the email marketing campaigns.
What information does a typical Austria Email Database include?
A typical Austria Email Database may include the following information:
Email addresses
Name
Company name
Job title
Phone numbers (if available)
Address (if available)
Industry
Can I get targeted Austria Email Databases that include Phone Numbers?
Yes, it is possible to get targeted Austria Email Databases that include phone numbers. Some providers offer databases with additional contact information, such as phone numbers, allowing businesses to have multiple channels of communication with their audience.
How often can I utilize the Austria Email Database?
The frequency of utilizing the Austria Email Database depends on your specific needs and marketing strategies. However, it is essential to comply with email marketing best practices, respect recipients' preferences, and avoid excessive or spammy email sending to maintain a positive relationship with your audience.
How can I increase my email subscribers using Austria Email Lists?
To increase your email subscribers using Austria Email Lists, you can:
Offer valuable incentives or exclusive content in exchange for email sign-ups
Optimize your website or landing pages with clear and compelling subscription forms
Promote your email list through social media, blog posts, or online advertising
Use lead magnets such as ebooks, whitepapers, or webinars to attract subscribers
Provide a seamless and user-friendly subscription process
Engage with your audience through targeted and personalized email campaigns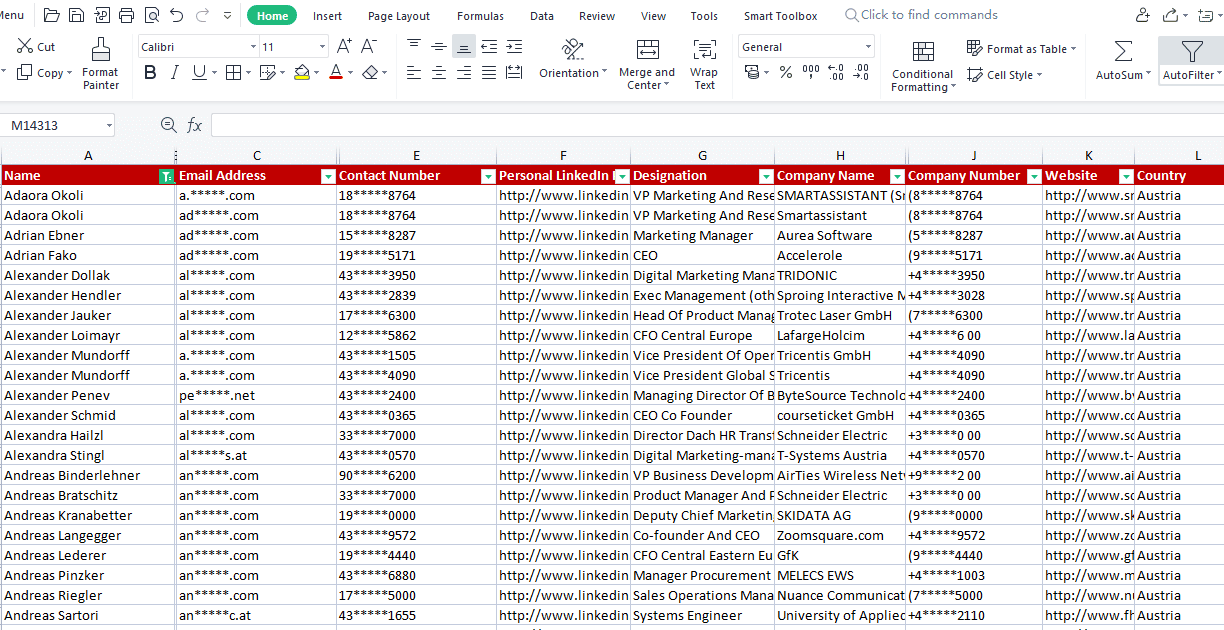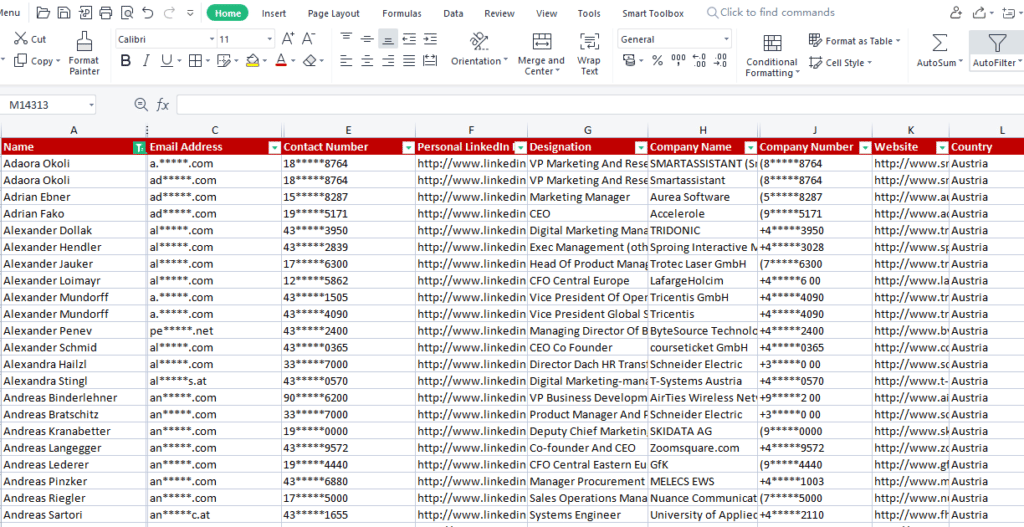 Buy AUSTRIA EMAIL DATABASE 2023
Austria Email Database : It is said that the Austrian economy is among the most robust around, which makes Austria an area full of opportunities for businesses.
Suppose you want to be part of these lucrative markets. In that case, you must have our Austrian mailing list that includes up-to-date contact information that is double-authenticated and double-checked of the top participants within the Austrian industry.
The process of gathering the information that your sales team requires isn't difficult when you choose Emailproleads.com to supply the email marketing lists you need!
A straightforward way to conduct business in Austria is compatible with the marketing via email model to perfection.
With our reliable Austrian data on email, you will be able to establish direct communication with those with the power to make buying decisions for your targeted market.
Each business database we sell contains real, specific contact details, so you won't have to risk sending your marketing messages to "[email protected]" or "Owner" and having them end up in the trash unseen.
Our Austria email database contains exact names, business details, direct mail addresses, verifiable telephone numbers, and the correct postal addresses you require to be ahead!
Are you looking for a specific list of mailers for Austria businesses rather than this already-built list? This isn't an issue.
Contact us to build the exact business contact list you require quickly and effortlessly. Contacts can be filtered by industry, size of the company or job title, and more, ensuring that you have the exact information you require to contact new leads for sales.
Check out the difference the premium business lists can bring when purchasing the Austria email database !!!
---
---
---
You Can also learn how email marketing works below (Optional Article below)
Basics of email marketing
If you're here, then probably you've gone through your email earlier today.
While there's more brand-related content on social media and texts sent through the SMS (Short Message Service), email marketing remains one of the most effective and cost-effective methods for companies to increase their list. Of customers and build their trust.
Using the correct tools and techniques will quickly and efficiently establish and utilize emails to help you reach your objectives. In this course, we'll look at the advantages of email marketing and look at some of the most popular tools and features. We'll assist you in understanding why email marketing is simple to implement and beneficial for businesses of all sizes.
Benefits of email marketing
Your customers are busy with social media, mobile device notifications, and traditional media like TV and the press. There's plenty of media competing for your attention. That's why email marketing can be an excellent way to keep your customers entertained by ensuring it is prominently displayed within their email inboxes.
Email can allow you to engage your customers, gain their loyalty, and have an enormously positive effect on your company, specifically sales.
Here are four strategies to use email marketing for your company:
Maintain your customers' interest
Marketing via email lets you frequently send discounts and offers and the latest news and updates about your services.
Since the cost of email marketing is low and easy to use, you can make use of it in the off-peak season to remain in contact with your customers and make your customers more inclined to return the next time they wish to purchase.
Pro Tips: By including hyperlinks to your website's offers and content in your emails marketing, it will drive visitors to your website.
Promote sales and offer
If you'd like to give your most recent promotions and discounts an extra boost, then share them with your customers through email.
Because email marketing campaigns can be made quickly and for a low cost, you respond quickly to the changing trends. This means you can use sales and discounts more effectively to take advantage of the most recent fashions.
Tips for Success: Utilizing emails to inform customers about specials in the store will encourage them to go to the physical locations of your stores.
Collect opinions and comments
Knowing what your customers need is essential for any business. It's equally important to ensure that your company always provides an excellent customer experience and pays attention to your needs.
Utilizing email to send out customer satisfaction surveys is a successful and flexible way to gather your customers' opinions about everything from the quality of your products and services to the quality of your service to customers.
Promote your latest content
You've gone to great lengths to write your latest blog article, newsletter or story about your founder. Make sure that your readers know about the article via email marketing.
The ability to send out emails with new content will help position your company as a thought leader in the marketplace. It also maintains an excellent level of visibility for customers who could be soon looking for products in your field.
Tips for choosing the best email marketing tool
If you're looking to give the idea of email marketing a shot, numerous tools and services will aid you in designing professional-looking emails and effectively managing the distribution lists.
Registration forms for email
Up-to-date and accurate email addresses are essential for a successful email marketing professional. Without these lists, not even the most engaging content or the most attractive offers for promotion will get to your customers.
This is why it's crucial that the service for email marketing you select offers you the possibility to create embedding, modifying, and customizing forms for sign-ups on your blogs, websites or other websites. With these forms, you'll be able to automate adding the addresses you have collected in your lists of recipients to begin sending emails.
It is important to select an option that allows users to personalize their forms to allow customers to select the kind of content they'd like to be receiving from you. For instance, customers who would like to be notified of sales offers may not be as keen on announcements about new products or updates from the company.
The registration form must contain an express "acceptance" declaration and an option to have the permission of each user, which is legally required at the start. This video goes over the most common aspects of email marketing software tools.
professional templates
Let's face it Black and white emails are dull and easy to overlook, and you'll probably receive hundreds of them each day.
A good email marketing company will offer an array of stunning professionally designed templates that allow you to personalize and build your own. In addition, it should have templates for specific types of emails, including updates to products and sales, which makes it easier for your clients to access the information they require. Change your colours to match your brand's colours and logo, and then add important details wherever you'd like. You're now ready to send professional, attractive emails that make your company stand out from other brands (and make you stand out in the crowds of customers' inboxes).
Reporting function
When it comes to marketing via email, you must know the best practices and what isn't.
That's why reports are essential. A quality email marketing service offers tracking and reporting stats which will provide you with full information about the outcomes. You will know the numbers about who opened your emails, who opened the emails, who clicked links that were included in your messages or who deleted the emails without even opening the emails.
Reports can help you improve your marketing efforts and improve the results of your efforts by tweaking aspects like subject lines and length of text. They also assist you in deciding the best way to target your marketing efforts by providing you with information about which customers are likely to read your email messages.
Email marketing is an excellent method to engage your customers and grab their attention on a platform that they interact with frequently, that is, their inbox. Through email marketing, companies big, medium, and small can use a straightforward and effective method to communicate information, increase customer loyalty and get feedback about their performance.
By choosing the appropriate tools, even small firms can profit from email marketing and reap the benefits of reaching out to customers via their phones and computers.
---
---
Email marketing tools
Email marketing is growing in popularity. Email marketing has become a way to enter the "virtual lives" of potential customers. Those who are proficient in using it know the benefits. What are the best tools for email marketing?
We can help you if you're thinking of implementing email marketing but don't know what to do.
Growing globalization has developed various aspects of life. The scientific sector, the industrial sector; everything has progressed. And in the business sector, many areas have grown. Due to the simplification of different business processes, there are many departments that thrive.
One of them is marketing. With the advent of social commerce, social shopping, and other conditions in e-commerce, the market has become more competitive. So the need to promote advertising and marketing of products or services should be bigger and better.
Marketing now has to be done in a more descriptive way. Consumers are increasingly demanding and in need. Campaigns should be more efficient and use all possible resources. All of these resources include emails or emails. Such resources are referred to below as the name of email marketing.
Email Marketing Uses Email The presence of potential customers to provide information about a product. It offers specially designed offerings for customer specifications and their reality. In addition, it allows you to offer special offers for a specific period of time.
In addition, the costs of email marketing are much smaller than other traditional marketing tools. This means that any company can invest very little in product advertising. This allows for better control over the target audience you want to inform.
What is email marketing?
Email marketing is, translated into Spanish, the act of sending emails to subscribers.
It is, in other words, a communication tool that individuals, companies, and online shops have. Keep in touch with those who have left their details and receive emails. The primary goal of email marketing, therefore, is to "convince" people to purchase something or request the service.
It was considered spam a few years back because it was used to sell products. It was considered spam by companies a few years ago because it was used to sell products. But, for a time, it became the most powerful tool to get people to do what you want.
It is difficult to do everything from the side. It is essential to communicate effectively with others and guide them toward the goals you set.
Use Email Marketing Tools to Do What You Need
It is time to learn the most important tools for email marketing now that you have started thinking about it. Although very few tools are currently available, many people are encouraged to offer this service. Only those who truly connect with people can get results.
Imagine, for example, that you get an email from an online shop containing a discount code offering you products for a particular day.
You also get another email, this time from your competitor, which tells you the story about how the company was founded, due to the fact that that person created the company that day. He is not directly talking to you about the purchase in this email but is humanizing his shop. This makes you part of the story. When it comes down to the truth, you are more likely to purchase.
What is the solution?
An email
An email is one of the best tools for email marketing and it's also one of the most important. Not just one.
Siempre will give you a great image. If you create a corporate email from your online shop or company, this will allow people to feel more at ease knowing where it came from.
It's not worth using Gmail, Hotmail, or any other free service.
Copywriting text
Do you recall how the online shop was created? It's called copywriting, and storytelling. You can also call it motivational. That is, by reading the words you can get it. When a man reads what he is reading, it becomes apparent that he knows the problems he faces and how he feels. After a while, you will find the solution to your problem.
Let me show you an example. You have to sell iron. You can't sell iron to the iron, no matter how much you talk about their features or how great they are.
Imagine writing a text about Iron's gift of a job to a woman. Interesting, right? You would say that the man didn't have anything, as he was always looking for work to pay his daughter's expenses. His ex-wife called him the same. He didn't, angrily, because he hadn't paid the pension. Tell him that he is lazy and ineffective. From the moment he woke up, his resumes were constantly being written, sent emails, and he continued to apply for jobs. There was no way.
He was about to go for an interview and he saw the shop window from which he could see how terrible it looked. The yellow pants were a bit worn and the jacket was two sizes too large. I also found the shirt to be a disaster because it wasn't soft enough or too comfortable. He focuses again and sees an iron. It is true, it is. He takes the iron out of his pocket and goes to the bathroom to get it. To everyone's surprise, he took off his shirt and started ironing in the same bathroom.
Email Marketing Tools: Software that manages emails
We now get to the part about the middle ground. The program to create and
manage emails. You might think you can create subscription lists and automate the process to send emails whenever you like with webmail.
Many programs are available on the market to serve you, and most of them are paid. Mailchimp and Sendinblue are some of the names. But which one is best? We'll tell you.
MailJet
MailJet provides this service to over 150 countries. It offers a free plan with unlimited connectivity, which is different from what you see on other devices. It is free to try and find out if you like it. You can only send 200 emails per day and 6000 per month. What does this mean? If you have 250 subscribers, 200 will get emails. The rest of the users will not. You will also be without service until the next month if you have spent 6,000 rooms.
It is easy to send. It's easy to use and offers both a paid and a free plan. You can only have 250 subscribers per month and send 2000 emails per day for free.
SendPulse. It is free, can receive up to 15,000 emails per month, and has up to 2500 users. It is actually one of the few things that pay.
It's a little bit blue. It offers service in Spanish (and another language) but don't let its name fool you. The free plan allows unlimited users, but limits email sending to 9000 (300 per day) per month. For $ 25, you will receive 40,000 emails per month. There is no daily limit if you have a paid account.
Millchamp
Millchamp This plan is the most well-known, but it can be difficult to use. You can have as many as 2000 users and send as many emails per month.
Blog
How to Check Emails Using Web Script
Important! To confirm email addresses with scripts that you have on your site the port 25 on your website should be accessible for access to other mail servers. If you're in a shared hosting program that is not shared, you won't be permitted to utilize the web script since those who use shared hosting account are not permitted to connect to this port without a locally-based mail server.
If you own a VPS or hosting service allows you the connection to external servers via port 25, then you may make use of a web-based script offered through G-Lock Software to verify email addresses. This option offers two benefits:
You can significantly improve the speed of verification if you upload the script to multiple websites
You can confirm email addresses using *@yahoo.coYou can confirm email address from *@hotmail.com, *@live.com, *@aol.com and many more domains. The script tests your website in search of Forward Confirmed reverse DNS (FCrDNS). If FCrDNS confirmation is approved then you can make use of the script to verify email addresses on the specified domains.
You should utilize the script of the Advanced Email Verifier on your computer. If you try to use the script from a different machine, you'll get the "Unable to read the response of the script" error.
In this tutorial, understand what you need to do in order to add the script onto your website, check whether the script works and confirm emails with the script.
If you are verifying email addresses using the script, only select one connection in the Advanced Email Verifier menu bar since the script is unable to verify multiple emails at once. If you manage more than one website you are able to upload the script on all websites and then enter multiple URLs for the script in the advanced settings for email verification.
Alternately, you can change the name of your aev7.php files and add multiple .php files to the same website for instance, aev1.php, aev2.php, aev3.php and so on. Enter all URLs into the Settings. In this scenario, you can create more Connections than the number of scripts you run to verify emails in Settings. Also, ensure that you have sufficient web server resources to handle the heavy volume of scripts that check emails.
How to Utilize Email Validation API with the Advanced Email Verifier
This guide explains how you can verify email addresses using the email validation API integrated within Advanced Email Verifier. Advanced Email Verifier. It is presumed that you're already familiar with the program and its general operation like setting the settings making a list and then importing email addresses.
We have joined forces in partnership with Swift Email Verifier, a product from webemailverifier.com to provide a robust and reliable email validation API (Application Programming Interface) (Application programming interface) for our customers.
Important! The email verification API is not available for free. You have to purchase the API key as well as the API server(s) via our vendor partner Swift Email Verifier. The cost starts at $50/month to use one server. You can view all the available options here.
You can make use of the API to validate emails to:
The direct Internet connection mode won't work since the Internet Service Provider restricts connection to SMTP port 25,
it is impossible to verify email messages using the web script since your host has blocked access to SMTP port 25.
you can't install the Advanced Email Verifier on a Windows server or Windows VPS with proper SMTP emulation authentication/integrity properties such as Reverse DNS, Forward Reverse DNS, SPF, Valid HELO identifier, clean IP reputation, etc.
Get the PDF "How to Use the Email Validation API" Guide in PDF
What are the criteria for checking API for validation of emails (in the form of a progressive order):
Email syntax is a test that is a way to check the syntax of email addresses and ensures that they adhere to IETF standards.
Mail Server Existence Check- this examines the existence of the domain email address through DNS MX Records.
Mail Existence Check test to determine whether the email address actually exists and is able to receive emails.
Catch-All Domain Email Check – This checks whether the domain that hosts email will be able to receive all email messages directed to it even if the addresses are not on the server for mail.
Disposable Email Address Test This checks to see whether the email is hosted by a reputable Disposable Email Address (DEA) service like Mailinator 10MinuteMail GuerrillaMail and more than 2000 others.
How to Utilize the API for Email Validation? Email Validation API
Follow the steps below to confirm emails with the API for validation of emails:
Go into the menu Home within the Advanced Email Verifier and click on Settings.
Go to the Connection tab within the program's Settings.
Make sure to check the "Use API for Email Validation" option.
Hit the "Buy API Key / IP Address" button.
On the page for ordering, choose the best package for the size of your mailing list. Each server/node is issued with a 1 million of quota.
It is suggested to purchase an multiple-IP service in case you have a long number of emails that you want to verify and you want to improve the accuracy of your emails.
The billing cycle runs each month. Each node will be removed at the end of the billing cycle , if you don't decide to keep with it and pay the full payment for renewal. Additionally, you may ask to change your API server changed prior to the close period of billing to pay an additional support charge and in this case, the old server is destroyed.
When your order is processed, you will be sent the API key as well as your API servers IP. This API Key is needed to authenticate your account with the API for email validation.
Before you sign up for an expensive API service, you may ask for a test API keys for up to 500 emails.
Once you have obtained your API key as well as the IP address of your API server, visit"Advanced Email Verifier" Settings, and then select"Connection" under the "Connection" button.
Copy-paste your API Key into the "Validation API Key" field.
Copy-paste the IP address of your computer into your "IP Address(es)" box. If you purchased several API server, type in the IP addresses on each line.
Click"Show API Keys" or click on the "Check API Key" button to view your API key's quota, and ensure that the API Key you have entered is correct.
How to Make Use of the Email Validation API
To increase the accuracy of your results you can set the number of times you would like to be able to have the "Unknown" results from email automatically validated. In the "Automatically verify "unknown" email messages (times)" area. We recommend entering 3 or 4.
You are able to check your "Unknown" emails for as many times as you like. Your API credits won't be taken off on any "Unknown" emails.
Setting up Email Validation Rules
Once you have entered an API key and IP address, once you have entered the API number and your IP address click the Rules tab within the Settings.
Advanced Email Verifier includes default rules that block the verification of emails coming from free email services like Yahoo.com, Hotmail.com and Gmail.com. With the API for email validation, you'll not face any problems validating emails coming from these domains though Yahoo occasionally gives false positives due to the fact that it is impossible to validate Yahoo email accounts with a 100 100% success rate without sending emails to Yahoo users.
If you're not entirely satisfied with the accuracy of the verification of the API in relation to an domain or email ISP as determined by the results then you can remove such domains from the validation of your emails through the API. To make this happen, simply click on the Rules tab, look up the domain and verify that it is listed on the list of rules. It is your choice to include additional rules custom to are suitable for you.
Be mindful that these rules have precedence above the API. Addresses for email will be processed by the rules first, before being processed by the API. To allow the exclusive processing of all email addresses using the API remove the default rules for email validation.
Click OK, to save your settings.
Setting Connections and Timeouts as well as Timeouts
Go through the menu Home, and select the desired number of connections to enable multi-threaded validation.
Based on the hardware of your system and the speed of your network You can choose between 500 and 1000 threads as numbers of simultaneous connections listed in the Connections field. You can also set the maximum Timeout at 180 seconds. While AEV supports up to 1,000 simultaneous connections, it is not advised that you make use of a many connections in the event that your system is not able to support it . Doing it will result in a lot of "Unknown" results that display the status of "Unable to connect to API". If you're running dual or multi-core system with a speedy network, then using the 1000 threads is fine.
How to Make Use of the Email Validation API
Additionally, to avoid the possibility of connection timeouts It is recommended to make sure to add Advanced Email Verifier to the list of programs that are allowed in the firewall settings, if you are you are using it on your computer. If you're using an anti-virus program disable it prior to checking emails.
Validating Email Addresses via API
Select the email list on the left and then click the start button in order to begin checking email addresses.
How to Utilize the API for Email Validation? Email Validation API
After a while after a certain period, the program will show the results of the verification, along with appropriate response codes to each address that has been verified.
How to Make Use of the Email Validation API
Once the validation process has been completed, keep or copy only those email addresses marked "Good" to lower the bounce rate to a the minimum.
How to Make Use of the Email Validation API
How to get Accurate Results and save points by using the Email Validation API
The Advanced Email Verifier can support the speed checking mode, when it checks only domains' authenticity. The speed checking mode doesn't depend on port 25 and is able to work even when the test for directly connected mode does not pass when you go to the Advanced Email Verifier Settings.
If you do it is possible to examine your list using the quick checking mode first time, and then delete emails which are marked "Bad" and then perform another check with the API for email validation. The steps below will help you:
1. Go to Settings > Connection.
2. Select the "Direct Internet Connection" option and then click OK.
3. Make sure to select your email for "Fast verifying (DNS queries only)" option in the Advanced E-Mail Verifier menu bar.
4. Hit "Start" to begin the verification process.
5. You can delete "Bad" emails after verification has been completed (Clear > Bad) and remove"Fast checking" and uncheck "Fast verifying (DNS queries exclusively)" option in the main menu.
6. Go to Settings > Connection.
7. Select the "Use API for Validating Emails" mode , then click OK.
8. Select "Start" to check the list.
9. Export or save "Good" address email once verification has been completed.
It is possible to validate ALL emails using the API for email validation?
While the API for email validation has a very high success rate for email validation for the majority of free email ISPs or ESPs, it is impossible to ensure 100% accuracy because of a myriad of factors that are beyond our control. The accuracy levels that you get will depend upon the outbound SMTP connectivity policy and policy set by the remote ISP or ESP and the credibility of the incoming connected IPs and other aspects.
The addresses that could not be verified for one or the other reason is flagged by the software with the status of "Unknown". This type of unidentified results in many instances result from Greylisting which is a technology that minimizes spam by denying initial attempts at delivery of emails. The Greylisting process works by sending the "Temporarily unavailable" message back to the server sending the email at the initial (and it's only the very first) time a message has been received from a specific sender. Thus, it is logical to try these validations following a period of time that has passed.
Additionally, "Unknown" results can be caused by the inability of verifying the email addresses by replicating a message sent to the email server that is the recipient because the email server that the recipient is using needs to be able to send a genuine message be sent. Therefore, it's impossible to confirm whether the address is valid or not. It will be impossible to tell until you receive a bounced message because the mail servers don't cooperate, or they can't be checked without sending a genuine mail to them.
To resolve this issue and help you save API requests, we've added certain domains recognized to frequently reject validation of emails for validation to Rules settings of the Advanced Email Verifier in order for the program to automatically label any emails sent from these websites as "Unknown". If your email lists contain email addresses from domains that are not cooperating with email however, the program might not be able offer you 100% success in validation. The rate of success fluctuates and there isn't a fixed assurance.
To deal with this to accommodate this, the Advanced Email Verifier has an built-in feature for handling bounces that is utilized to process bounced emails into the list of unknown results.
Recommendations for Managing Unknown Results
The following guidelines are highly recommended for dealing with Unknown results that are reported by the API for email validation:
1. Since a majority of the unknown results are caused by temporary issues (Soft Bounces) such as SMTP server timeout or downtime, Greylisting, Mailbox size exceeds quota, temporary mailbox suspension/deactivation, and temporary blockings due to IP reputation, it is strongly recommended to re-validate Unknown email addresses again at a later time. We don't recommend deletion of Unknown email addresses immediately following the verification. It is likely that the emails that previously were marked as Unknown will be confirmed as good.
2. Check all the failure status codes of the Unknown emails to understand why each email address listed in the Unknown list is not verified as valid or valid. It is your choice to remove only the emails that have an error code that is more likely to be invalid emails. You can remove the remainder.
3. After reducing the unknown list in the manner described above the next step is with saving Unknown emails in a file. These emails can later be used in your email marketing campaigns. We strongly recommend you utilize Bounced Manager, the Bounced Manager module in AEV to handle bounce emails and remove them from your list.
Utilizing Verified Emails within Third Party Email Delivery Services
Many businesses and marketers are making use of third party email delivery services to manage the delivery of marketing and transactional emails. With an experienced third party services for delivery of emails, a better inbox position or delivery rate is obtained. These third-party email delivery services have agreements with various ISPs/ESPs . They have a strict guidelines for acceptable "Bounce Rate" thresholds for users who utilize their services to avoid being labeled an email server that sends spam.
Althoughthe benefit of using a third-party email delivery service are obvious but extreme care should be taken not to go over the allowed or acceptable "Bounce Ratio" of any mail message you make use of their services. The bounce rate is the percentage of emails which are returned undeliverable when you send your email campaign. While many third-party email providers do not specifically set a bounce rate limit but the most common acceptable bounce percentage is 5percent. If you go over this threshold the account will be removed or suspended. In the majority of cases the third-party mail delivery providers are, in most cases, required by ISPs/ESPs along with Spam Advisory Groups such as Spamhaus to enforce bounce rate thresholds, and also to deactivate accounts that go over the threshold to stop Spam.
To avoid having your third-party accounts with email delivery services being suspended or deactivation, it's crucial that you follow the following best practices prior to import your clean emails into your third-party email delivery service:
1. After you have verified your list, keep only the valid emails that have been verified in the verification tool. Don't add emails marked as unknown to the legitimate emails. In general, do not transfer these Unknown emails to a third party email delivery service.
2. Keep the Unknown emails in a separate file, and then send your message directly to Unknown emails through an encrypted SMTP server. In about 24-72 hours you can use the bounce handler program to read all bounced emails, and then take the email addresses, and then save the addresses in an text file. Then, save the files and then subtract these from your Unknown list that you download from your verifier.
3. Certain email addresses that are marked as valid by the verifier could not be valid in actual. This false positive can be attributed to the strict anti-spam system employed by a few ISPs including Yahoo. With Yahoo in particular, deactivated/suspended/expired emails are marked as Valid by the verifier because Yahoo regards these emails as valid or "existent" even though such emails are not active and cannot receive messages. So, when you attempt to forward your messages to these emails, they'll bounce since the emails aren't active.
Therefore, prior to using the legitimate emails that you download via the verifyer, it's highly recommended to delete any Yahoo email addresses from your list. It is possible to save Yahoo emails in a separate file and add them to Unknown emails. You can send a text message Unknown emails with your private SMTP server, and then utilize to handle bounces using Advanced Email Verifier to handle bounces. Advanced Email Verifier to process the bounces from these emails.
How to Utilize AEV with Windows VPS
If you are using the an Advanced Email Verifier for Windows VPS
Because that the Advanced Email Verifier is desktop software its accuracy in verification is dependent on whether you IP address is in the Dynamic IP blacklists or spam blacklists, and whether the machine on which it is installed Advanced Email Verifier is installed is properly set up with authentication records, such as PTR and FCrDNS.
There are probably several connections options under Settings> > Connection within the Advanced Email Verifier.
We don't suggest you use Direct Internet connection mode if you have installed an Advanced Email Verifier on a local computer as a majority of SMTP servers will not accept direct connections to personal or home computers , and you'll get many refusals to connect ("Unknown" result).
If you are using a computer locally think about using an alternative connection method, such as connection via the web script, if you have a site with an open 25 port, where you can upload your script, or connect using the an API for email validation.
Direct connection mode is recommended for Windows VPS (virtual private server) or Windows server that has proper FCrDNS and PTR records, i.e. that you can simulate your SMTP server. Therefore, if you are unable to utilize the web script on your site and you don't wish to spend money on a third provider API for email validation then you could consider making use of to use the Advanced Email Verifier on the Windows VPS in the direct Internet connection mode.
Where can I get a Windows VPS
If you do not have an Windows VPS yet, you could try these websites to find one:
https://www.iozoom.com/windows.html (the cheapest package for $10/month is sufficient for small and middle lists of 200-300K emails)
https://www.hostwinds.com/windows.php
https://aws.amazon.com/ec2/pricing/on-demand/ (for a large email database, consider the Amazon EC2 medium instance)
The greatest benefit of Amazon EC2 is that Amazon EC2 instance is that it can be activated only in the event that you require verification of emails , and only pay for the period you need to use. After verification is complete you can shut down the EC2 instance, and not be charged for any time it's not in operation.
Additionally, you can look on Google to find "Windows VPS Hosting" yourself, and then look up other websites that offer Windows VPS. The best choice to use is Windows Server 2012.
Once you have an Windows VPS, install the Advanced Email Verifier on it the same way you would install it on your local computer.
How to configure the Windows VPS
Here are some tips to set up your Windows VPS to get accurate confirmation results:
1. Register a domain and then point at your server. You can then access that domain name in AEV Settings -> DNS in the "Domain name for HELO" field.
2. Install a mail server on your VPS and then create the email address. After that, you can make use of this email account within the AEV Settings DNS section in the "Mail FROM" field. You can use the free SMTP server from https://www.hmailserver.com/.
Three Configure your authentication records (PTR as well as Reverse DNS) on the Windows VPS.
If you have the Amazon EC2 account and are planning to utilize to use the Advanced Email Verifier on it be aware that Amazon has set a limit on SMTP traffic to port 25. The reason for this is to prevent EC2 instances from getting utilized for SPAM operators. This policy, however, impacts legitimate users too. Therefore, you'll need to ask for the to be increased by filling out the form. Learn more about this here.
How to verify emails using the Windows VPS
Below are some helpful tips to use the Advanced Verifier for Email Verifier in the Windows VPS:
1. If you confirm email addresses using outlook domains, such as hotmail.com, msn.com, live.com or outlook.com It is important to take note that your VPS is blocked following five hundred failed connections, without having sent an actual message. This means that you must make sure you send authentic messages using your VPS outlook domains in order to avoid being blocked.
2. When your IP is not yet registered with ISPs and has an unfavorable reputation. In the beginning, you must examine emails slowly and utilize less connections in your menu.
How to verify the email list using AEV
3. Select the "Periodically to sleep for 60 seconds after receiving 1,000 email messages" choice in AEV Settings to check email addresses in batches , with intervals of time.
How to verify the email list using AEV
As time passes and your reputation grows it will allow you to expand the number of connections, and also eliminate the throttle. You will also be able to get better results when you have a great reputation.
4. You should be vigilant about the status of your IP reputation and then remove it from blacklists if blocked for any reason.
How to verify email addresses directly using MS Excel File without Export-Import
This guide will show you how to make an online link for the MS Excel file and verify email addresses without saving export the results of verification in the Excel file.
If you're running the 64-bit version of your system, or there's any Microsoft Office installed on your 32-bit machine then install and download Microsoft Access Database Engine 2010 (32-bit version) for the ability access MS Excel files from the Advanced Email Verifier.
To make a hyperlink into MS Excel file, follow the steps below: MS Excel file, follow these steps:
1. Start your MS Excel file where your email addresses are stored . You can then add new fields like VerificationResult as well as Status. An Advanced Verifier for Email Verifier will save verification results in these fields.
2. Enter 0 in the field Status to indicate an email address. This is necessary to allow the cells to recognise the formatting "Number".
change status to set to 0 set status 0 in Excel
3. Save the modifications to the MS Excel file.
4. Start your Advanced Email Verifier.
5. Click on the My Databases tab in the left pane , and then click New in the toolbar.
6. Write an appropriate List Name.
7. Click the arrow beside the "Select Database" …" button" and choose one of Excel the 97 version or Excel 2010 based upon your MS Excel file you are connecting to.
Select Excel from the Advanced Email Verifier
8. Choose the worksheet from Excel menu "Table Name:" menu.
9. The map will include your Email, Status and VerificationResult fields. In order to map the field simply click your mouse inside the "Mapped Field" column and then choose the field's Name from the drop-down menu.
map fields of the Advanced Email Verifier
10. Save the connection by clicking OK.
11. Click Start to confirm email addresses.
Once the verification process is completed After the verification is complete, you will see the results on the Advanced Email Verifier.
verified emails with Advanced Email Verifier. Advanced Email Verifier
Close your Advanced Email Verifier program and access you MS Excel file to see the way the program saved the results of the verification to the file.
outcomes are stored in Excel files. MS Excel file
When you've got more than 65000 emails stored in your MS Excel file, you may notice it that Advanced Email Verifier stops working after clicking "Start" and then does nothing. This is due to MS Excel can't handle huge quantities of emails. The best database to store huge amounts of data is the MS SQL database. If exporting messages from your MS Excel file into an MS SQL database is an alternative for you, check the following email addresses in MS Excel file: MS Excel file:
1. Divide Your MS Excel file into several files that contain 65,000 emails or less, and then create links to each of them in a separate manner;
or
2. Configure up the Advanced Email Verifier to write verification results to local files, instead of using the MS Excel file directly. In order to do that, click on the link's title under "My Databases in the Advanced Email Verifier and select for the "Save results to local file" option. Choose the location to save the files using the results. This Advanced Email Verifier will create various text files and save the good emails, bad, unknow and so on. emails in a separate file.
How to connect to an MySQL Database and Verify Email addresses
The Advanced Verifier for Email Verifier is able to be connected to any ODBC compatible database to verify email addresses in tables in the database, and save results of the verification to the table.
Important! To keep the verification results safe it is necessary to add new fields to the database table, such as the Status (type Integer) VerificationResult (type String) as well as LastResponse (type of String).
For connecting to the MySQL database using Advanced Email Verifier Advanced Email Verifier, follow the steps below:
Step 1. Installing the MyODBC Driver.
Download MySQL Connector/ODBC onto your desktop computer , making sure you select the correct installation file for the version you have of Windows. (Probably the Windows Driver Installer (MSI))
After downloading, double click on mysql-connector-odbc-win32.msi.
When the MySQL Connector/ODBC Setup Wizard window appears, select Next.
Choose"Typical", then click Next "Typical" installation and Click Next.
Click Install and then wait until the installation is complete. Click Finish.
Congratulations! You've successfully installed MySQL Connector/ODBC.
You must now let the computer on which you have installed the Advanced Email Verifier is installed to connect to the MySQL data by adding the IP address of the computer to your list of permitted hostnames for the MySQL database.
Step 2. Step 2. MySQL Access Hosts.
Start the Internet browser.
Access your cPanel for the remote web server on which you're MySQL database is
Click on the MySQL Databases link
Scroll down to look for the "Access Hosts" section
Input the address IP of the machine that hosts you have installed the Advanced Email Verifier is installed
Click Add Host
Close your browser
Now , you need to create an account DSN for the MySQL driver within the ODBC Data Source Administrator.
Step 3. Create User DSNs to connect to the MySQL Driver.
Click Start > Settings > Control Panel
Double click on Administrative Tools within the Control Panel
Double click on the mouse to Configure ODBC Data Sources (32-bit)
Connect to the MySQL Database and Verify Email addresses
The "ODBC Source Administrator (32-bit)" screen, click Add. Source Administrator (32-bit)" screen, click Add
Click MySQL ODBC 5.x.x Uncode Driver
Click Finish
Connect to an MySQL Database and Verify Email addresses
Enter Data Source Name as well as your TCP/IP server's name, your username , and login password in order to join your MySQL server. Next, choose your MySQL database name.
Connect to the MySQL Database and Verify Email addresses
Click to Test
Click OK If the test passes
Click OK to close the Connector/ODBC screen.
Select OK and close this screen. ODBC Data Source Administrator screen.
You are now ready to join your MySQL database via your Advanced Email Verifier.
Step 4. Connecting to the MySQL Database from the Advanced Email Verifier.
Click to open your Advanced Email Verifier
Visit My Databases
Select the New icon in the menu bar.
Give your database a name. database link
Click Select Database to select the database.
In the Data Link Properties screen select Microsoft OLE DB Provider to ODBC Drivers
Click Next
Select your data source name
Click on the Test Connection button
Click OK If the test is successful.
Select OK and close Data Link Properties screen. Data Link Properties screen
In the Database Manager screen, select The Table Name that is from the MySQL database.
Transfer the fields of the database MySQL databases to appropriate fields of the Advanced Email Verifier. To do this, just click your mouse in the Mapped Field column and select the field's name. It is important to note that the Email, LastResponse, and VerificationResult fields must be selected to map.
Connect to an MySQL Database and Verify Email addresses
Select OK and save your settings.
Step 5. Verifying Email addresses from an MySQL Database.
To verify your email:
Place the cursor over your database's name within the My Databases section.
Select on the "Start" button in the menu bar.
How do I import emails from a CSV Multi-Column File into the List and export the fields in the same Format Following Verification
This tutorial will show users how you can import email addresses, as well as other information about contacts like first name and last name address, address and zip code, city, state etc. from the multi-column CSV data file to the lists within Advanced Email Verifier. Advanced Email Verifier and export every field after verification.
Step 1. Making List using Custom Fields using the Advanced Email Verifier.
Here is an example CSV file that contains many columns:
Import a multi-column CSV File into the Advanced E-Mail Verifier
Before you can upload all columns to Advanced Email Verifier, before you can import all the columns into Advanced Email Verifier, you must create an array of custom fields. For this, follow these steps:
Start to the Advanced Email Verifier
Click on My Lists tab at the left pane
Click New> Create a New List on the toolbar
– type a list name
Click Insert and then type in the field's name (to include an additional field click Insert and type the new field name).
Click to create
If the field's name appears highlighted in red or black, it's a reserved term that is not included in the Advanced Email Verifier. It is necessary to change the field's name. For example, you can use State_ instead of State.
Create list of custom fields
After the list has been created Use the Import feature to import the information into CSV. CSV file.
Step 2. Uploading custom Fields From the CSV File into the List.
Click on the name of the list and click Import in"Home" menu.
Follow the steps in the Import Wizard
1. Choose the type of file – Text file. Click Next.
2. Click the […] the button and select the CSV file from the disk. Click Next.
3. Fill in 1 into First Row field. Enter 1 in First Row field, or add 2 if the first line of your CSV file has fields' names. Other fields are left as they are.
Click Next.
4. Give the appropriate names on the fields. Click the black downward button in the field's title, then choose the field name that is associated with the field. The default Field1, Field2, and Field3 and so on. headings should be replaced with the actual field names.
You have to label all fields correctly, or there will be no data imported.
Click Next.
The fields are mapped in the Advanced Email Verifier
5. Verify that the fields in the destination (Advanced Verifier for Email) Verifier) are the same as the fields of the source (CSV document). Click Next.
6. Preview your data. Select Next.
7. Click the Import mode 'Addto record entries to the table of destination'. Click"Execute.
Once the import process is completed after which you will be able to see the data you imported in your new listing.
Click Start to begin verifying that the addresses are valid email addresses.
Verify emails using csv file
Once the verification process is completed After the verification is complete, select this option for exporting all fields to a single file.
Purchase also: 150k Colombia Email Database [2023]