All Indian Email Database
We offer numerous All Indian email database that can help you expand your company. At Email Pro Leads, we work hard to provide only top-quality information and that is why our Indian email list is up to date and constantly checked for accuracy. We offer these lists at prices that will certainly fit your budget. Be sure to order now so that you can get started expanding your company right away.


Indian Email Database
India's largest and most trusted data provider, we are the best in India. We are India's most reliable and accurate data provider with the highest overall accuracy.
Our Pan Indian Email Database is reliable, high quality, and premium at a meager and discounted price. Access to more field data is more accessible and more affordable. Our deep knowledge of the data allows our clients to make better business decisions, improve internal information systems and processes, and significantly improve public information platforms.
Buy Email Database India
We are trying to provide correct filter data so that our clients can use all India Email data. We don't believe in delivering nasty or dirty data, so we work daily to improve the data.
The filtering of different databases has resulted in internal learning. This knowledge has been transformed into expertise used to provide the best advice to our clients and help them bring their Best business to the highest level.
Indian Email Database Properties 
The most affordable one
2023 Updated
High Accuracy
Fresh, new records
No usage limitation
Main categories included
The most complete product
Unlimited usage
MS Excel filetypes
Instant Download
SIC categories
Easy controlling by excel
Email Pro Leads offers only the most current Indian business email lists to help you. Our India email database is updated to 2023 and is constantly checked for accuracy. Here at Email Pro  Leads, we only offer the best.
Indian Email Database Fields:
1. Company name
2. Email address
3. Mailing address
4. City
5. State
6. Zipcode
7. Phone number
8. Fax number
9. Sic code
10. Industry
11. Web address
FILETYPE
CSV
Opt-in list
2023 UPDATED
LATEST INDIAN EMAIL DATABASE
Format – Excel
Accuracy – More than 95%
Folders Segregated as per
Data can be filtered easily as per your need and requirement
Indian Email Database
You can look into Trade showcase websites such as Emailproleads to build your B2B customer base for a quick solution. Emailproleads can provide you with a genuine database.
To kickstart their businesses and increase profits, start-ups need an email list. Emailproleads are affordable for start-ups, despite their limited funds.
Emailproleads.com provides an Indian Email database to over 1000000+ businesses from all walks of the globe and has also established a niche for Indian brands.
Emailproleads offers an excellent option for companies looking to increase ROI via email marketing but cannot afford costly Indian email databases. It boasts a 97% accuracy rate and is verified.
From where should I purchase email lists for Indian Email Database?
EmailProLeads sells ready-made Indian Email Database lists. These lists are so overused that you will not see any results if your campaigns are launched for them.
Our All Indian email list can be purchased:
These are verified lists. These lists contain 97%+ valid email addresses, as they were created by combining data from many databases.
What are the secrets to email marketing, and what are its benefits?
Indian Email Database
A large part of digital marketing is done through email marketing. Despite recent rumors that email marketing is dying, it is still alive and well! This is due to the many benefits of email marketing.
It allows businesses to reach an international audience. It is estimated that over 3.8 billion email addresses are registered around the globe. It's a large number, even if they all belong to different users. This is a great opportunity! It is one of the most popular features on the internet. This means that it is the best way to reach your target market. Some people avoid social media and forums and don't like audio and video streaming services (all of the traditional places where digital marketing activities are conducted), but Email is something that everyone uses.
It is easy to measure. Setting SMART goals is the only way to achieve your goal. SMART stands for Specific, Measurable, Achievable. Realistic. Time-bound. You can see that one requirement is for objectives to be quantifiable. Many digital marketing strategies do not provide clear statistics on the performance of your campaigns. Email marketing is very straightforward when giving information about the campaign's outcomes.
Indian Email List
It is easy to get started. To run a powerful email marketing campaign, you don't have to be an expert in email marketing. It is one of the best well-known forms of digital marketing. There are many tools available that will help you make a compelling email marketing campaign.
It is very affordable. Email marketing is relatively cost-effective compared to traditional media marketing methods.
You can send targeted, personalized messages directly to the recipient. It allows you to reach your target Globale audience directly without the need for intermediaries. You can craft compelling messages that will be heard. This is a great way to build the best relationships with your target audiences by personalizing their experiences.
Indian Email Database It generates leads that can be converted into revenue.
It will help if you put in enough effort and time to reap the benefits of email marketing. Email marketing is highly competitive. If you want to achieve accurate results, you must stand out. Here are some secrets to help you achieve that goal:
All Indian Email Database
Email marketing campaigns automation.
CRM tools allow you to personalize your experiences.
Visualized content.
Gamification in email marketing campaigns
Referral programs
We want to make the most of what we already have (current subscribers), in order to grow our email list (especially as JewelScent did with their social reach, see above).
Referral programs are a great way to achieve this. Referral programs have helped McDonald's, Dropbox and Starbucks become industry leaders.
Referral programs encourage subscribers to share your offers to their family and friends to increase your email list.
Referring others is easy and free.
You can also share or forward your newsletters and welcome emails with others
Add the same option to your lead magnets (videos and PDFs, cheat sheets etc.)
They are fine but may not be enough to attract you.
Instead, offer something in return for a referral.
You can get free shipping, a discount of $50, a 25% discount or a gift for your purchase.
Here's an example for an incentivized referral programme
This is a great way to make new contacts and get new customers.
9. Offline list building
You can see that the ongoing list building process should all be done online, on your website, landing pages and social media.
But, you should always use offline methods to collect emails when possible.
Take, for example:
Make sure to print your business cards. You can exchange them with people who meet you and discuss your business. You can also add received contacts to your contact list.
Participate in fairs and events in person and keep an email column for your booth.
If you are selling products offline, ask customers for their email.
You can organize meetups to bring together like-minded people for discussion. Register here.
If they are legal, all methods of building a list are valid. If you use offline forms to build your list, ensure that they are legal.
While some offline list building can be automated, others may need to be manually added to your marketing automation software.
_____________
The most important thing is to have a strategy for growth, and to communicate consistently with customers about both acquisition and retention.
Omnisend offers a variety of tools that can help you build your email list. These tools include landing pages and popup forms that you can place on your website. Additionally, gamification tools such as Wheel of Fortune have higher conversion rates.
An email list with high quality content will help you move leads through the sales funnel. It will also allow you to convert new subscribers into loyal customers. That's the primary purpose of all the list-building.
Remember that "the money is in the list."
Best practices for email list cleaning to save money and increase engagement
Your falling deliverability might make you more concerned.
Perhaps you have a large email list that hasn't been updated in years. You get so excited to see how many subscribers are increasing, you forget to verify which ones are valid or null. The result is a mess of invalid or fake email addresses.
The mess seems so large that it is almost impossible to clean up.
Now it's time to face the facts, regardless of whether you're proactive or reactive in addressing spam replies, sender reputation damage and wasting money with null contacts.
It's time for you to get rid of any dirty data that is affecting the performance and effectiveness of your campaigns.
Although it can seem daunting, email list cleaning is not difficult. To spot duplicates and typos in thousands of contacts, it takes time and resources. What's the best method to do it? All data should be downloaded into a spreadsheet. Track metrics like bounce rates? Are there any tools that speed up the process?
Continue reading to find out:
What is email list cleaning?
Why email lists should be filtered
How often, when, and how to clean up your email list
What tools should I use?
We recommend these email list cleaning best practices
Let's get to it.
Illustration of top email marketing challenges
Email marketers face two main challenges: poor engagement and competition for attention in their inboxes. Source [pdf]
*The 2020 survey now includes the following responses: Poor email engagement, Too many data but not knowing how to use them effectively
Do you want better results with your ecommerce marketing campaigns
Omnisend helps you clean up your email list and send high-converting emails.
Book a demo.
What is email list cleansing?
Email cleaning, also known as "scrubbing", is the act of periodically updating your email list by removing duplicate or invalid email addresses, unengaged subscribers, and removing unsubscribe requests.
Email list cleaning is an important part of email management best practices. It helps you ensure that your data is consistent, reliable, usable, and trustworthy.
What are the hidden costs of your company's data?
Maintaining a healthy email database is essential to help you tap into the pot of gold.
Your business is at risk from bad data:
It can affect your reputation as a sender
The ability to keep unwanted emails from inboxes is improving with Internet service providers. A high percentage of your email goes to spam folders can affect your reputation as a sender and your email deliverability rate.
Factors like:
How many people open your emails and click on your links?
Number of emails not delivered due to non-existent, invalid or incorrect recipient email addresses (aka hard email bounces).
The number of spam-marked or deleted emails.
You can send spam traps (invalid email hidden on websites to trap anyone trying to scrape them)
Domain reputation is affected by graphic showing factors
Your domain's reputation can be negatively affected by spam complaints, spam traps, and hard bounces. Source
It will cost you money
Omnisend will remove invalid subscribers on the first attempt. However, many other email marketing platforms are charged by the number or soft bounces and remove them after multiple attempts. If you are sending emails to invalid or disengaged subscribers, you may be paying unnecessary fees. Users with high bounce rates are even banned.
Although it sounds tedious, a cleanse of your email lists can save you time and help you understand why campaigns didn't work.
It can cause system-wide problems
Any errors that are made in your database can be duplicated if it is used across multiple sales and marketing tools. This can hinder sales and marketing efforts, and cause problems all the way through the customer journey, from product dispatch to delivery.
It puts business at risk
You're losing revenue opportunities if you fail to reach high-potential subscribers due to mistakes such as typos. If a lead is hot but you make a mistake in their details, they may become cold before you notice it.
Table showing the obvious and lesser-known errors in email addresses
Email errors like the one on the left can be easily identified with your naked eye. The errors on the right are more difficult to spot.
It can affect your ability to understand engagement
It is difficult to understand the engagement of your subscribers and create content that they will love. Personalization is becoming more important in ecommerce marketing. According to the 2023 Email Benchmark Report it can greatly increase inbox placement rates.
A graph showing the best email practices that have a positive impact on inbox placement rates
Inbox placement rates are positively affected by email list management and subject line optimization. Source [pdf] Clean email lists: Why is less better?
People often believe that big is better when it comes to email marketing campaigns. You might think that the bigger your email list is, and the more you send emails, the more likely it is that something sticks.
Wrong.
Your email metrics may not be meeting benchmarks because your list contains too many invalid or illegitimate emails.
Bounce rate havoc
Do not land in the inboxes of recipients, so don't generate clicks and opens
A smaller list with engaged subscribers is better than one that has low open and click-through rate. It's like creating a large segment of quality email addresses by cleaning your list.
Our 2020 Marketing Automation Report shows that segmented campaigns outperformed those not segmented by 52% to 110% in terms both of open and click-through rate and orders.
This is what you can do with your entire list.
Graphics showing the performance of segmentsed and unsegmented campaigns
Segmenting campaigns can deliver significantly higher email marketing metrics than those that are not segmented.
What happens to email lists when they get soiled?
These factors affect the quality of email lists.
You could be subject to data protection legislation such as the GDPR or being reported for spam if you use bought lists that contain spam traps or people who haven't opted in.
People who switch email providers or fail to make changes to their personal and contact information.
What are the benefits to email list cleaning?
You will see better results if you practice email hygiene
Improved deliverability, email open rate, click-throughs and engagement.
Low bounce rates and fewer spam complaints
It reduces campaign costs and increases ROI.
Inbox placement rates as high as 90% are associated with best practices in list management like validating email addresses, building organic lists, and honoring opt outs.
Graphic showing the best list management practices that have an impact on inbox placement rates
Inbox placement rates can be improved by using tech to validate and remove invalid emails
You can also use an email list cleaning tool to:
Manually checking email addresses saves time and allows you to fix any errors.
Verifies bulk emails
How do you clean up your email and keep it clean?
Audit your campaigns
Analyze your campaign metrics to compare with industry benchmarks. Determine if you have lower than average hard bounce rates or low engagement.
Omnisend users also have detailed sales tracking, attribution, and 360o views of engagement, ROI, performance, and other information.
Two panels with graphs and figures showing Omnisend's performance report.
Omnisend's detailed reports make it easy to evaluate campaign performance.
Run a re-engagement campaign
To salvage subscribers who have been disengaged, send re-engagement email. There are no threats or gimmicks. Just engaging automated win-back emails that say "Still want hear from us?" with follow up a few days later for those who have not responded. It will be amazing to see how many people decide to stay.
If they are still not engaged after this, it is time to let them go.
Clean your lists
Scrub your lists using bulk email verification and list cleaning services or dedicated tools like Mailgun to weed out risky or invalid emails (like [email protected]), spam emails, typos, and catch-alls. Email servers known as catch-alls will accept all emails from domains that are shared, even if there are typos or not.
You can upload lists in a CSV format or similar. Or connect tools to your CRM, ESP, or email platform via Zapier integrations or APIs.
Mailgun email verification report
Mailgun is a great tool to check email addresses using an email list cleaner
You can use "disposable" addresses to send emails that validate catch-alls. An account that is set up with a public domain such as Gmail instead of your own.
You can decide whether to delete or keep emails from older domains that have users who may have moved on.
Check your domain health
MX Lookup is a tool that can check if you are not on any blacklists. This is particularly important if you send from a shared IP. It will ensure that other bad email marketing practices do not affect your reputation. It's easy for Omnisend to verify your sender reputation if you are sending via the shared domain.
Segment your lists and start running campaigns
Send only to verified and/or engaged users. This will help you build your reputation and deliverability. Don't send to low-quality lists until they have been verified.
You can use Omnisend segments for identifying your most engaged subscribers to target them with engaging content.
Two panels showing Omnisend campaign segments, and a smiling woman
Omnisend makes it easy to identify subscribers and add them to segmented campaigns
Permanent maintenance
Define what constitutes a disengaged subscriber. If they haven't engaged with content within the last 3 months, this would be considered a disengaged subscriber. Set up triggers and rules in your email platform that will automatically identify them and remove them from your most active list. To avoid them being added to your future list, don't completely delete them.
Depending on the platform you use, you might need to establish rules that remove hard bounces right away (in Omnisend, this happens automatically so you don't have to do anything). Also, determine when soft bounces should be removed. Keep in mind that some platforms charge per email, so if your emails don't get read enough, it can add up.
To let go of inactive contacts, practice "email sunsetting".
Omnisend flow chart showing email sunsetting frequency
We recommend that subscribers who haven't engaged for over 120 days be terminated
Integrate your email verification tool and list cleaning tool with online forms or webpages to keep your lists clean. This will allow you to run regular checks on your database.
To catch any errors the tech may have missed, run regular spot checks. You can also manually remove duplicates by checking them in a pivot table.
Pivot table in a spreadsheet
To manually review email lists and to remove duplicates, use a pivot table. Source
Email list cleaning best practices
Here are the best email list cleaning practices that experts recommend:
Make it a habit to clean your email list.
You should establish a routine for cleaning and checking your lists on a regular basis, starting with the most used.
When switching platforms, clean up your lists
To protect your sender reputation, and ensure deliveryability, make sure you have your list wiped clean before changing your CRM or ESP.
Make sure you have the right tools
Email verification and validation tools can be used to remove spam traps and inactive email addresses.
Know when to let people go
Keep track of your metrics to determine what constitutes a disengaged subscriber. If they do not open your emails for three months, you can remove them.
Remember, prevention is better than treatment.
Use only the most reliable data sources
Do not buy lists. Follow email marketing best practices such as building permission-based mailing lists organically using engaging content, pop-ups, landing pages, and well-placed forms to attract the right type of subscriber.
If you don't have any other means to verify or closely monitor delivery, never send to catch-alls.
Make sure you use the right email platform
To ensure that you are not in violation of data protection legislation, make sure your email platform only allows permission-based lists. It's not enough to just protect data. GDPR requires you to delete all incomplete or incorrect records.
A platform that automatically unsubscribes, suppresses hard bounces, and facilitates segmentation is also important.
Email to abandon cart
Sign up correctly to avoid any errors
To prevent bot sign-ups and typos, use captchas to send double-opt-in automated emails. Also, ask new subscribers for their email addresses to verify.
Automated welcome emails
These templates help to manage expectations and eliminate potential unsubscribers as soon as possible. But, automating doesn't necessarily mean impersonal. Omnisend offers customizable templates that can be customized to personalize your communications based upon sign-up insights.
For more information on automation, see our Ultimate Guide to Email Marketing for Ecommerce.
Email with an image of an orange chair as a welcome email
A welcome email is a great way to let new subscribers know what you expect from your campaigns. Source
It's easy to opt out
By including visible links, subscribers can manage their preferences and opt out. Spam complaints can be made if you hide the link in your footer, or make it difficult to find.
Collect the right data
Be clear about what information you need and what it is. Don't ask for irrelevant information. While this information will vary from business to business, the general rule is to get their first and last names, email addresses, and mobile phones (so they can opt in for SMS). You'll also need this information if you wish to send them an email on their birthday. Brands like Disney and Betty Crocker will also need to know if subscribers have children.
Set up the appropriate fields and options on web forms to classify subscribers upon sign-up. To avoid people picking the "other" option, be aware of drop-down options that offer too many or too few choices.
You can use a preference centre to allow customers to self-identify. This will enable you to segment them and keep them engaged. In turn, this will encourage them to keep their details up to date.
Clean, engaged lists can only be made if you understand your customers' needs and behaviors. It also helps you determine when it is time to let go of a customer.
Omnisend Preference Center
Omnisend's preference centre is a great way to gather additional information about your subscribers
Make sure you have the right content
To increase conversion rates and retain subscribers, personalize and send relevant content. Omnisend's customizable templates, rules and filters can be used to enhance customer profiles, buy behavior, engagement data and increase order rates by more than 60%.
Dynamic targeting allows you to target different segments of customers with tailored content. Let's suppose you sell workout equipment. You should change the messaging and images to focus on what your customers are interested in and their goals. This will depend on their age, gender and motivations. An over-50s man who is trying to get in shape and a first-time mom of 30 will respond differently to your messaging than a woman of the same age.
Email customers with no reason or value should be sent. Businesses such as Ticketmaster, Porsche, and Amazon may run them every few months.
Look after your sender reputation
Marketers who keep track of their sender reputation have higher click-through rates. Make sure you aren't blacklisted and "warm up" dedicated IPs through gradual increase in email volume.
Illustration of how activity monitoring your sender reputation affects email open rates
Open rates can be positively affected by monitoring your sender reputation
How often and when should you clean out your email inbox?
This question will get you different answers depending on who you ask. As a rule of thumb, we recommend once per quarter. Others recommend that you do it every six months or less depending on how large your database is, how fast it grows, and whether it is shared with multiple tools or isolated. Some recommend that you pull new data for every campaign, and assume anything older than a few months invalid.
It all depends on the industry and your metrics. You can clean your site once a month if there aren't any red flags. If you notice a rise in unsubscribes or hard bounces, spam complaints, and plummeting click-throughs and open rates, it is time to clean up.
Also, clean before you create a large campaign, inherit a list, or change your CRM, ESP, email marketing platform, or before you change it.
The best email cleaning services
Omnisend
Omnisend's newly launched email cleaning service offers a free health check to determine the number of potentially dangerous contacts. It also uses Mailgun sending and delivery data to validate bulk and grammar checks across billions of email domains. For lists that have more than 4% of low-quality contacts and over 10% of medium-quality contacts, list cleaning is recommended.
Pricing: $0.20 cents per 100 contacts.
Omnisend email list cleaning service dashboard
Omnisend's list-cleaning service automatically detects high-quality contacts and low-quality ones
Do you want better results with your ecommerce marketing campaigns
Omnisend helps you clean up your email list and send high-converting emails.
Book a demo.
QuickEmailVerification
It does exactly what it says. Rapidly verifies contact lists imported from your ESP or computer. It also validates emails coming from online forms and marketing platforms in real time.
Pricing:
Pay-as you-go: 500 emails for $4
Monthly: $25 per day for 500 emails.
No cost trial
Two panels showing QuickEmailVerification pricing plans
If you use QuickEmailVerification regularly, it makes sense to sign up for a monthly plan
Sign off
You can make your ecommerce campaigns more successful by keeping your data clean.
Use an email cleaning service and an omnichannel marketing platform such as Omnisend to get your campaign off to a great start. This will ensure that you have reliable data and insights at your disposal so that you can send relevant messages to the right audience at the right time and through the right channels.
This creates an engaging, unique ecommerce experience that will keep customers coming back for more.
What's the difference between list cleaning and email verification?
Email verification is the process that verifies an email address is active and is being used by a real person. This allows you to send communications to them. Email cleaning is the process of clearing out your email list by removing duplicate, invalid or fake email addresses.
Do you need to purge your email lists?
You should remove invalid or inactive emails from your email list to improve your results, protect your reputation and reduce bounce rates.
How can you maintain a healthy email address list?
Email verification tools can be used to validate email addresses at the point of sign up. List cleaning tools can also be used to remove unengaged or invalid emails from your lists. Segmentation and personalization are two of the best email marketing practices.
How can I clean my email list the most effectively?
An email cleaning tool is the best way to clean up an email list. It will identify invalid and risky email addresses, errors, and unengaged subscribers.
How can you ensure that your email list is clean
If your subscribers are engaged and metrics such as open, click-throughs and conversions are high, you will know that your email list has been cleaned. However, bounce rates are still low.
11 reasons your email is going to spam
While digital marketers spend most of their time creating content, authentication processes and spam filters may prevent readers from seeing your messages. Many brands don't realize how many messages they send are not reaching the recipients' inboxes and being marked as spam.
There are easy ways to improve your delivery rate and ensure that more emails reach their intended inbox. This article will discuss the most effective strategies to optimize deliverability and common reasons spam filters may flag certain emails.
Why is my email going to spam?
Spam filters are a well-known technology that has been around for quite some time. As spam has become more prevalent, they have grown increasingly complex. Modern filters employ multiple authentication and analysis criteria to ensure that every message is sent. This means that your emails will go to spam for many reasons. You can identify the areas where your campaigns are failing and take steps to fix them.
1. Contact recipients without permission
Spam email is more common than ever. Sending emails to people who haven't signed up for your newsletter is a red flag. You could face penalties of up to $40,000 for sending spam messages without consent.
Instead of purchasing pre-made lists, build quality subscribers using your website. Businesses are often flagged for sending unsolicited emails by paying for spam-trap email lists. Purchasing such contact lists can have serious consequences for your business. You could make things worse by using a bad email blast strategy in conjunction with purchasing lists.
2. Bad sender name
Use a unique domain that is not the same as your website. Instead, choose a relatable and interesting sender name. Boring sender names may make your content less interesting, and misleading subscribers with your sender name or domain is against the CAN-SPAM Act. Also, phishing, spoofing, and other forms of email fraud can lead to failed authentication processes. Optimizing your sender's name can improve delivery and performance in any case.
The CAN-SPAM Act does not require that businesses use the same generic name to send every email. There are still many options to create personal names.
You can change your sender name to something like your name, your business name or the name for the newsletter. As long as it accurately represents the source of the email, this is possible. Split-testing different sender names is a great way to fine-tune the approach.
3. Inactive subscribers
Spam filters are used to filter out spam content. It's not surprising that subscribers are a key criteria. Engagement is a problem for many businesses. It's important to keep your email list active.
Even though it takes a long time to collect emails, you shouldn't hesitate delete them. They are of no use and will only harm your reputation score as a sender, so it's best to delete them. It is possible to remove inactive subscribers using good practices.
Sample_setting_frequency-01
4. High bounce and complaint rates
A high bounce rate (more that 4%) often means that the email list has been purchased, isn't of good quality or is out-of-date. These senders are often treated badly by email clients (Gmail Outlook Yahoo!) and can negatively impact their reputation.
Many email clients allow users to report spam emails. If there are too many complaints, content may be removed. Your Complaint rate should not exceed 0.1% or one in every thousand recipients. This number is automatically recorded and displayed by most email marketing platforms based on all recipients in the same domain.
5. Poor image-to-text ratio
Marketers continue to debate two things when it comes time to sending HTML emails through spam filters: 1. The ratio of image-to-text and 2. Spammy words
The image-to-text ratio is a more B2B issue. It became irrelevant for retailers when email providers began caching images and automatically displaying them. Omnisend recommends that you don't worry about images in promotional emails. Attachments should be avoided and text elements should be included in HTML emails. Spam filters should not be used if your brand language is consistent with the content of your email.
6. Spammy text
Spammy words are another topic that deserves discussion. Spam filter triggers can be identified as subject lines that contain "free", "%", and "hurry". These words are essential for ecommerce emails because they are actionable and create scarcity. You will find many emails containing these words in your inbox. They didn't trigger the spam filter. How did they get in your inbox?
Omnisend doesn't believe spammy words can cause email delivery problems. We do agree that spammy subject lines can look unprofessional if there are multiple exclamation signs or all-caps text. Marketers should instead write compelling and actionable subject lines.
7. There is no unsubscribe or address
Spam regulations have become more strict in areas such as physical addresses and unsubscribe buttons. Even if you don't get a fine, it will most likely hurt your delivery rate.
Small business owners might not know that it is mandatory to include an address. You can always use a PO Box to list your address instead of including it in all emails.
Your unsubscribe link must be visible and easily accessible. Subtle tactics like long unsubscribe forms in invisible fonts or empty spaces before the unsubscribe button will only lead to disaster.
When unsubscribing, readers shouldn't have any issues.
8. Too many campaigns
Eight emails were sent to me from the same domain on Black Friday. This means that they all came from the same company.
It was reported as spam without mercy. Although I was interested in the communication, it was too many messages for one person to handle. Some contained attachments which only added to the frustration.
This is the moral of the story: Your subscribers should not be overwhelmed by too many emails.
It is best to send emails 2-3 times per week. Daily senders should not send more than one email per day.
9. An abrupt increase in email messages sent
A spike in spam folders will be triggered if a brand suddenly sends to 200,000 subscribers instead of 10,000, as email clients view spikes as spam attacks and unanticipated behavior.
You can increase the size of your contact list slowly.
10. Change of email service provider
Your sender reputation score is affected by every ESP switch. You must warm up your domain's new sender status every time you change your email marketing tool. This will ensure that email clients don't mistake you for a spammer.
11. IP addresses that are blacklisted
These problems can usually be fixed to avoid spam filters and email authentication failures. However, you might still experience difficulties reaching your intended recipient. Sometimes, even after addressing all other issues, an IP address can still negatively impact delivery.
It is easy to check your IP status. MX Toolbox or similar services can check the status of your IP against many popular blacklists. Although no search engine is perfect, it's a good place to start if your deliverability is low.
Although most reputable email marketing companies have security measures in place to prevent this problem, there is always the possibility that your platform may be flagged by spam filter. Because they lack the resources to fight spam filters, small email marketing businesses are more vulnerable to being unreliable.
How to stop email going to spam
Indian Email Database
CATEGORIES COVERED
Working Professionals, Company owners, Account holder, Business Owners, Ecommerce Buyers, Students
Doctors, Engineers, Credit Card Holder, Car Owners, Job Seekers, Corporates and Professionals, Loan Customers, Architects, Chartered Accountants, Businesses, Classifieds, Real Estate, BPO, Financial Advisors, IT Consultants, HNI Database, IT Companies, Insurance Agents, Demat, Social Media Users, NRIs, Real Estate, Frequent Flyers, Abroad Travellers, Exporters and Importers and lots more…
Also, Query For:
Indian email database
Free email database India
Buy email database India
Email id database India
Bulk email database India
b2b email database India
Best email database provider India
Free Indian email database
Free email id database India
Buy Indian email database
Indian students email database
All India email database
Indian doctors email database
Purchase email database India
Corporate email database India
All Indian Email Database
General Email Database India
State-wise email database
All India Email Id Database
Email Database India
Indian Business Directory
Give your next marketing campaign a decisive edge with business enterprise information from Global Database. Our directory is constructed from business overall enterprise records and top employees in India. Our advanced online platform allows customers to immediately build the most efficient lists to our powerful clear-out tools, making focused marketing campaign creations short and handy. Mailing lists may be transferred to your personal CRM or email advertising and marketing provider seamlessly with as many exports to Excel as you want at no more fee.
Whether your business desires B2B email contacts, direct smartphone numbers, or superior corporation records, Global Database has everything you need to develop notable advertising campaigns and skyrocket your sales approach within the Indian marketplace.
• Create particularly centred mailing lists from scratch
• Add a consistent stream of new leads with our day-by-day updates
• Qualify leads primarily based on their monetary facts
• Verify the accuracy of your modern-day mailing lists
Understand and interact together with your target audience.
List of Indian industries
Are you looking for contacts in the Indian technology sector? Do you want contacts inside the delivery or chemical industry? Global Database can offer you super statistics approximately organizations in whatever niche you're focused. With 34 industries covered in our India directory, we sincerely have something for everybody, irrespective of in case you are searching out contacts from the most effective small groups or larger companies.
Email listing in India
With Global Database's email database, India's key decision-makers are just an email away. When you purchase access to our email list, you obtain 189,772 email addresses for companies of all sizes and industries across the u. S . A. All of these addresses are established monthly, which means we've got one of the maximum delivery charges of any enterprise directory for sale. Email is critical to your marketing strategy, so avoid getting touch lists full of errors – Global Database can help you ensure your messages reach the right humans.
Database of phone numbers in India
Global Database's smartphone-wide variety directory consists of 171808 cellphone numbers for Indian businesses, allowing you to touch genuinely any commercial enterprise inside the USA. More importantly, while you buy commercial enterprise facts from us, you can enjoy direct contacts, skipping the intermediary and contacting your goal without delay. With the capacity to filter your calling list using a seniority-level approach, you could communicate with a CEO or different executives from the beginning.
India B2B Marketing Database
Finding the kinds of organizations that shape your product profile can be very time-consuming. The Global Database listing is the perfect solution; our range of demographic filters lets you reveal the contacts that fit your emblem. You can restrict your search with enterprise turnover, number of personnel, years of operation, and greater. The ability to clear out your B2B email or call list using seniority level means you can even speak to CEOs and senior executives right out of the box.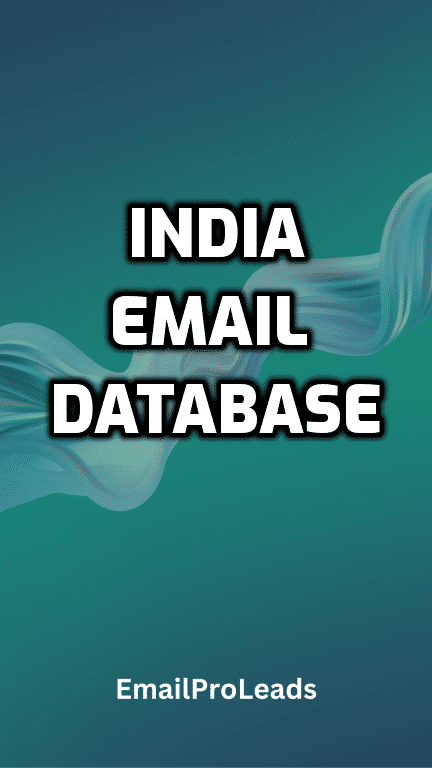 Indian Business Email Database
Indian Business Email Database with ALL agencies registered in India. Get an electronic mail listing of Indian companies to broadcast your presentations to Indian enterprise entities. Get this electronic mail list and start selling your commercial enterprise. We replace our Indian business electronic mail database regularly so that you don't need to fear approximately getting accurate facts.
statistics available
Company call: 927,124
Straighten – 925,614
Area – 567,424
City – 586,828
PIN code: 586,771
Mobile – 203,101
Telephone 1 – 349,694
Telephone 2 – 210,632
Telephone 3 – 12,224
Email Address – 927,124
Website – 187,656
State – 256,167
Country – 927,124
Our Best Selling Product: India Email Database