120 Crores – Indian Email ID + Mobile Number Database [ 2022 All in One Combo Pack ]
All Indian Email And Mobile Database – Contents:-  Contact Name, Mobile Numbers , Email ID, Personal & Business Address Info, Pin Code, Date of Birth, Age, Salary, Designation, Gender, Qualification, District, City, Area Name, Company Info, Website Address,..etc.
This Database Provides information about Indians, Details in Excel/CSV format with Approximate Total *No. of Records is: 120 Crore
Reach your Exact Target Audience in Small One Time investment. This Product is Highly useful for Tele calling, Bulk SMS and Emailing For Advertising / Promoting/ Marketing your business and services in Location wise. More Details are given below…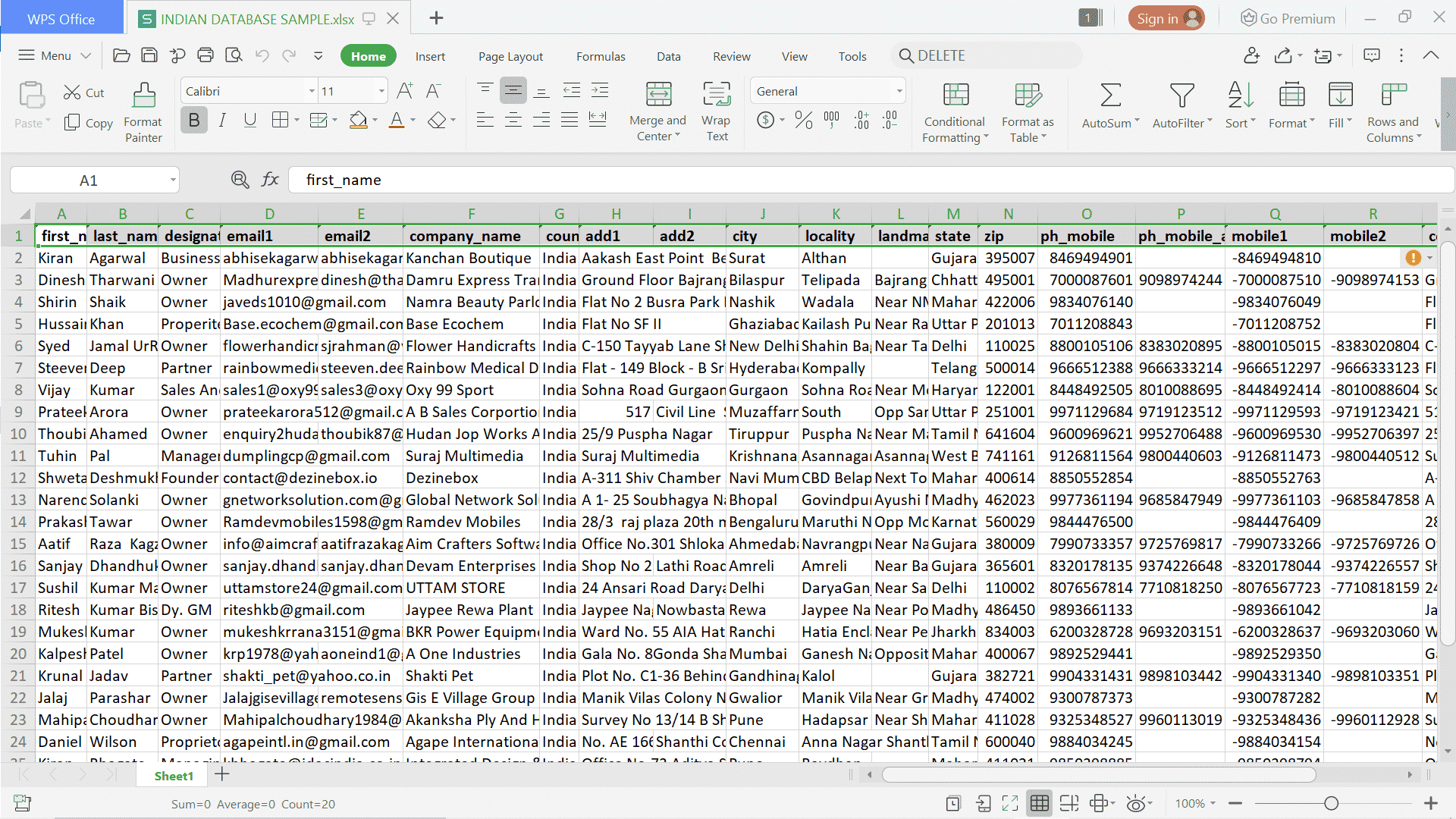 2022 UPDATED – LATEST INDIAN DATABASE
Accuracy – Upto 97% Accuracy
Folders Segregated as per
Data can be filtered easily as per your need and requirement
CATEGORIES COVERED
Working Professionals, Company owners, Account holder, Business Owners, Ecommerce Buyers, Students,
Doctors, Engineers, Credit Card Holder, Car Owners, Job Seekers, Corporates and Professionals, Loan Customers, Architects, Chartered Accountants, Businesses, Classifieds, Real Estate, BPO, Financial Advisors, IT Consultants, HNI Database, IT Companies, Insurance Agents, Dmat, Social Media Users, NRIs, Real Estate, Frequent Flyers, Abroad Travellers, Exporters and Importers and lots more…
PROPERTIES
The most affordable one
2022 Updated
High Accuracy
Fresh, new records
No usage limitation
Main categories included
The Most complete product
Unlimited usage
MS Excel filetypes
Instant Download
SIC categoried
Easy controlling by excel
Email Pro Leads offers only the most current Indian business email lists to help you. Our India email database is updated to 2022 and is constantly checked for accuracy. Here at Email Pro Leads, we only offer the best.
All Indian Email And Mobile Database Fields*
1. Full name
2. Email address
3. Mailing address
4. City
5. State
6. Zip code
7. Phone number
8. Fax number
9. Sic code
10. Industry
11. Web address
All Indian Email And Mobile Database File Type
CSV
Opt-in list
Email database India and Mobile Number Database
120 Crore All in One
Indian Email ID + Mobile Number Database
Why Our All Indian Email And Mobile Lists Database..?
India's Leading Database Provider .
Data Updating Every MONTH.
1500+ Major City wise Database
640+ Districts wise Database
1000+ Category wise Database
67+ Crore Email ID databases
55+ Crore Mobile Numbers
Name, Address, Pin code, Area, Contact details, …etc
95 – 97 % Accuracy & Well Arranged .
No Fake & Bounce Records
Covers 1000+ categories under HNI, NRI, Business , Car owners, importers, Distributors, Employees,  Vodafone, BSNL, Airtel , Reliance, JustDial, Yellow Pages database..etc .
You can also target users based on their Area, City, District, Category, sub category wise managed in different folders & MS Excel Format Files .
Over 68% of the Database are SEC A 1,2,3 & between the ages of 18-45 & thus in their spending prime• Reach across web and mobile.
30+ Indian State Databases
Andhra Pradesh
Arunachal Pradesh
Assam
Bihar
Chhattisgarh
Goa
Gujarat
Haryana
Himachal Pradesh
Jammu and Kashmir
Jharkhand
Karnataka
Kerala
Madhya Pradesh
Maharashtra
Manipur
Meghalaya
Mizoram
Nagaland
Odisha
Punjab
Rajasthan
Sikkim
Tamil Nadu
Telangana
Tripura
Uttar Pradesh
Uttarakhand
West Bengal
Indian Island
1500+ Indian Cities Database
Mumbai
Hyderabad
Kolkata
Jaipur
Nagpur
Bhopal
Navi Mumbai
Mysore
Delhi
Ahmedabad
Surat
Lucknow
Indore
Patna
Allahabad
Vijayawada
Bangalore
Chennai
Pune
Kanpur
Kochi
Nashik
Coimbatore
More….
Buy All Indian Email And Mobile Database Now to get your first SALE TODAY!!!
For Any Queries, Please do Whatsapp