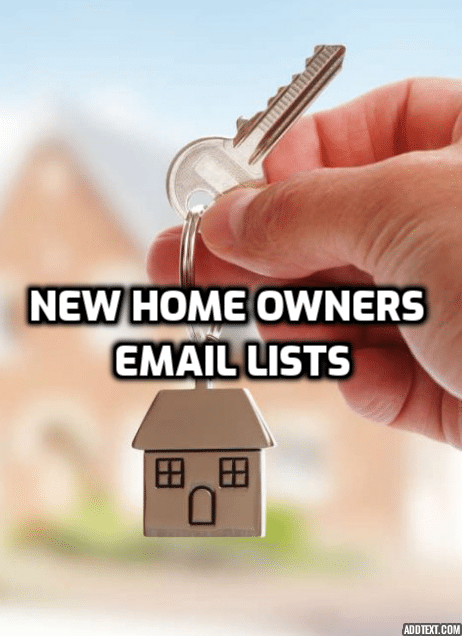 New Home Owners Email Lists
Begin to find new homeowners at the time they're ready make a decision
A huge number of people buy new homes every year. Research shows that homeowners who are new spend more money during their first 6 months, than they will over the next five years! They are attracted by deals that range from home renovation, credit cards restaurant, salons, and many other services.
With our affordable and accurate homeowner mailing and email lists We can assist you to reach out to these customers who are in "buying mode."

An up-to-date list is crucial for reaching out to these buyers during the six-month peak buying period. We collect real estate data straight via U.S. County Recorders offices . We keep our lists updated weekly providing you with the most up-to-date data you can get.

Our latest homeowner mailing list is a great way to reach out to those who include:
Stable
Creditworthy
Do you have specific requirements for buying
Are extremely open towards direct mailing and phone advertisements
You can connect with these highly responsive buyers during their crucial purchasing period following the move-in. The new homeowners will buy things for their home like:

New furniture
Swimming pools
Washers
Dryers
Materials for landscaping
Fencing
Greenery
Draperies
Rugs
Lamps
Outdoor lighting
Storage shelving
Wall art
Food products
Internet service
Television service
Utilities
Telephone services
Be sure that your next marketing campaign is reaching the most recent potential buyers in your area of trade by using our extensive and current new homeowner mailing along with an email listing.

Selections and Criteria Include:
Full Name
Address
City
State
Zip Code
Age of the person
Person Birth Month
Education Level
Gender
Occupation
Ethnicity
Loan Amount
Loan Interest Rate Type
Loan Lender Type
Loan Type
Gender of Primary Owner
Home Market Value Range
Lender Name
Purchase Date
Purchase Amount Range
These New Homeowner Lists of Mailings are lists of information which help businesses connect with new homeowners locally as well as across the country.

New homeowners are typically high-spending and require lots of help and assistance to make sure they are settled in their new residence.

162,218 homeowners who are new to the market have bought homes in the last Week. Here are the Top 10 States for New Homeowners:

TOP 10 STATES # NEW HOMEOWNERS SINCE 03/28/2023
TX 15,465
FL 15,322
CA 13,521
GA 7,684
NC 6,858
OH 6,593
PA 6,174
MI 5,014
NY 4,961
IL 4,603
TOTAL 86,195
GET A NEW HOMEOWNER MAILING LIST

What is a New Homeowners List?
An New Homeowners List is a marketing list. It lists the names and addresses of those who have recently bought a brand new home or mortgage.

New Homeowners are those who recently obtained a mortgage and you can tell they have an excellent credit score and a steady source of income.

How much will a brand new Homeowner mailing List cost?
The New Homeowner Mailing Lists begin at $62.50.

Below is a list of details on pricing.

What are the reasons to buy a brand new Homeowners Mailing List?
As per Realtor.com New homeowners are more likely to spend money on local services and home builders during their first year over the previous year.

On average, new homeowners will spend around $10,000+ in their first year as a homeowner.

If you're a contractor or a home service business, you don't want to be left out of marketing to these major spending customers!

What type of new homeowner marketing is the most efficient?
Our customers love our New Homeowner Postcard Marketing because it's simple, quick and inexpensive.

For an advantage over your competitors, you can try repeated mailings, and mail an attractive, high-quality Postcard every 2 to 3 weeks for three months to achieve maximum results.

Regular mailings can help you establish your business and increase your chances of winning new customers.

New Homeowner Postcards assist businesses in connecting with the New Homeowners, and also help to attract new customers.
The New Homeowner Marketing Postcard is cost-effective and efficient. Begin marketing to the New Homeowners in your area today.
How do I order New Homeowner Postcards?
Reduce time and marketing costs and let us handle the job ! We'll print and mail your direct mailer marketing campaign to you.

Click here to see all my Direct mail options .

Which businesses can profit the most from the new Listings of Homeowners?
New homeowners spend the most dollars on local businesses and nearby home-related services. Be ahead of the pack you can be first in the market to deliver direct mail to the New homeowner leads in your vicinity.

Local businesses offering home services could benefit from purchasing new Home Owner Lists, and also directly marketing to:

Automotive
Dentists
Doctors
Churches
Plumbers
Home Improvement
Handymen
Gardeners & Landscaping
AC Contractors
Painters
Window Cleaners
Furniture Stores
Interior Designers
House Cleaners
Restaurants
How many new homeowners are in my neighborhood?
More than 220,500+ new homeowners buy an apartment in the USA each month.

Learn how many new homeowners as well as sales leads reside available in your area . Get an updated New Homeowner List now. You can target specific cities, counties zip codes, towns or a radius of an address.

Find Homeowners who have recently bought a new house. Search for new Homeowners by choosing specific counties, cities or Zip Codes or a an area around a central address.
Find new home owners quickly using The LeadsPlease Map tool. Just enter an address and we'll let you know the number of New Homeowners living close by.
What Selects can I add to my New Homeowner Direct Mail List?
You can select to receive an All-inclusive List of new homebuyers in an location, or limit your search using any of the following demographic selections:

Age
Change in Dwelling Type
Change in Region
Dwelling Type
Gender
Median Household Income
Move Distance
Recency of the Move
Home Value (estimated Market Value)
Year the Home was Built
How accurate are your new Homeowner's Lists?
We are extremely proud and take great diligence in ensuring the accuracy of our data as it forms the foundation for our company.

The New Homeowner Lists of our clients are updated every week, and on a daily basis as new information is made available. In these updates, outdated addresses are updated or deleted and new addresses that are valid are added to the.

Although we go to extraordinary efforts to cleanse and update our databases, they'll always include a tiny amount of inaccessible mailing addresses, incorrect information, and data mistakes that are out of our control.

Our competitors are all able to boast an average delivery rate of between 70 and 90percent . But, because we cleanse and update our data more frequently, we're proud to have a 95+% deliverability rate , or accuracy, if you make use of the List within 30 days of purchasing.

Can I get a free quote?
Yes! You can request a no-cost estimate online once you have created your new Homeowner mailing List. You can also contact us anytime and we'll gladly assist you via the phone 1-866-306 874

What will what does New Home Owner List look like?
LeadsPlease provides three easy-to-use List Formats.
The most widely used formats is that of the spreadsheet (excel/csv).

1. Excel File Spreadsheet
A new Homeowner's Mailing List in the format of PDF files to print for mailing labels.
2. PDF File
New Homeowner Mailing Lists printed and sent to you via Peel and stick Mailing Labels.
3. Labels Shipped to You
Why businesses love LeadsPlease New Homeowner Mailing Lists
Voted Best List Broker Service by Business.com
95+% Accuracy Guarantee
3 Easy to Use Formats
Low Pricing : Starting at $62.50
Updated Daily
Instant List Download
Subscriptions Available
Postcard Printing & Mailing Available
HOMEOWNER MAILING LIST DATA SOURCES:
Tax assessors, county deeds, FSBO websites, real estate websites, as well as many other specific sources. Over the last 30+ years, we've focused on the integration of data from all the major home-owner source … which has resulted in the most comprehensive and verified homeowner mailing list and homeowners' email lists.

HOMEOWNER MAILING LIST QUANTITY:
The US Census indicates that there are 75 million homeowners living in the US … approximately 65 percent of all living properties. This verified list of homeowners is 67 million … approximately 89% of home owners … it is the largest "verified" homeowner quantity. Again, no inferred data. Homeowners verified!

HOMEOWNER MAILING SELECTIVITY OPTIONS:
Homeowner Geographic Selectivity: Entire US / Nationwide, Regional, State, City, Neighborhood, Subdivision, Street Name, Parcel ID#.
Homeowner Property Type Choices for Selectivity Home Market Value, the price of home purchase and the number of bedrooms, number of bathrooms, pool Floors / Stories, Fireplace Architecture Style (Art Deco Cape Code, Bungalow Colonial, high Rise, Mansion, Mediterranean, Ranch, etc), Waterfront Property Indicator (river or ocean), lake or creek).
Homeowner Mortgage Optional Selection for Mortgage Type (Adjustable Balloon, Mortgage Date Seller Carry Back Refinanced Loan Reverse Mortgage), Cash-Only Purchase, etc.
HOMEOWNER MAILING LIST DEMOGRAPHICS:
Alongside a wealth of details about the home or property, we provide an extensive collection of demographics and psychographics of the owner. The homeowner's identity is based on Age of the household, marital status, children's education level and net worth, income as well as occupation. CLICK HERE FOR MORE INFO.

HOMEOWNER MAILING LIST QUALITY:
All records are verified by 2 sources. Every address is updated every month. We assure a 95 percent service rate, or "money" refund.

HOMEOWNER EMAIL LIST QUALITY:
We are able to provide homeowners with email leads should you want to manage and execute your own homeowner marketing campaign. Also, note that the homeowner's email database is a 90%+ accuracy as well as "money-refund!" Of course the biggest benefit of purchasing a homeowner email list is its unlimited benefits of use … you have the option to send many deals, subject lines or creatives.

HOMEOWNER MARKETING LISTS APPLICATIONS
Email Campaign to the Homeowners Marketing List We'll email your campaign your offer to "qualified" homeowner leads with an assured open rate (assuming your offer/creative is accepted). After the email blast to the homeowners' email list you can choose to receive an email list of homeowners who opened the email you sent … an enormous advantage as most of the homeowners who have opened your email could be turned into customers with just a one or two more emails.

The Homeowners' Email list: We are able to also supply the homeowners email list should you want to create and manage your own homeowner-specific email marketing campaign. Also, note that our homeowners' email list includes a 90%+ accuracy rate , or "money-refund!" Of course the main benefit when purchasing an homeowner's email list is the ability to use it for unlimited time … you have the possibility to experiment with different subjects, offers as well as creatives.

Digital Ad Campaign to the Homeowners Marketing list: We will provide digital banner ads to eligible homeowner leads. If your homeowner leads you have identified are browsing the internet from the home networks, their advertisement will be seen on the majority of the websites that homeowners leads are visiting. To be clear, the ads on digital platforms are only delivered to the homeowners who are on your personalized homeowners' marketing lists. In addition to advertising clicks on display the low-cost digital program is also a great way to increase direct mail results as well as open rates for emails!

Facebook Advertisements to Homeowners' Email List: Alongside marketing emails, you can utilize our homeowners' email list to connect with those "qualified" homeowners on Facebook. We insist on that "qualified" word because the Facebook platform does not provide the wide array of qualifications filters that will help you identify your most effective homeowner leads to market.

Homeowners Mailing Lists: In contrast to traditional advertising channels (Google Adwords, Google Search, Facebook, etc.) direct mail is an unbeatable opportunity to put your company's name and message placed in front of homeowners with qualified leads. Direct mail is the only way to ensure that your offering does not need to compete with hundreds of other competing deals … through direct mail, you get the complete attention of the homeowner. In contrast to the digital route direct mail ensures maximum coverage of the market of the homeowner. It's true that direct mail is expensive but if your customers have a substantial LTV direct mail can effortlessly yield multiple ROI. In order to increase the effectiveness from your homeowner mailing list we can conduct multiple digital ads along with the Direct Mail drop … Synchronized campaigns will certainly improve the results of your direct mail.

STRUGGLING HOMEOWNERS MAILING LIST
homeowners with lower FICO scores
Homeowners with delinquent Property Taxes
Pre-Foreclosure Initiated
Bank-Owned (REO) Properties
Homes with Auction Pending
EXAMPLES OF UNIQUE HOMEOWNER MAILING LISTS:
Home buyers who can only purchase cash
Buyer Carry-Back Homeowner Loans
homes with a pool.
Homes with fireplaces
Corporate owned homes / properties which are owned by a company
Homeowners who own old homes houses built before 1900
Trusted homes are those owned by trusts.
Vacant homeowners / Vacant homes
Condo homeowners
Owners of high-rise homes
Owners of Vacation Homes
Homes For Sale – Homes Currently On The Market
New Homeowners Mailing List
First Time New Homeowners Mailing List
Vacation Homeowner Mailing Lists
Waterfront Property Owners Mailing List

New Homeowners
New homeowners pay an enormous amount of money when they make the process of moving. According to an Scarborough study, homebuyers who have recently purchased within the U.S. spent a total of $19 billion on home improvements projects in the last year. With the competition rushing to homeowners' doors and a plethora of options to choose from, you must be able to be noticed. Our targeted and highly specific homeowner mailing lists can easily help you to gain new customers in this lucrative category of buyers.

New homeowners are willing to shell out a lot of money on the goods and services to establish their new homes and are thought to be a highly desirable segment of the market. Our services permit you to personalize your homeowner's email and mailing list to tailor to your individual requirements using the following selections:

Age
Geography
Income
Value of the home
Marital status
Type of property
The number of children
Plus!
Marketing through Homeowner Email and Mailing Lists
Our database of new homeowners includes people who recently purchased the first home of their lives which is intended to offer perfect prospects. A few examples of the most popular items and services that new home owners pay for include:

New dentists and doctors
Appliances and furniture
Electronics, such as the cable or phone services
Mechanics
Remodeling and landscaping
Dry-cleaning and house cleaning services.
Beauty salons
It is now the right moment to increase the brand's visibility and build brand loyalty from these new community members since they're only beginning to get established. When you buy a targeted new homeowners mailing list you'll move one step closer having high-paying customers. Our team is here to assist you in reaching out to the exact group of new homeowners you would like to market to.

If you're a company owner in any part of the United States, you need trustworthy consumer mailing lists to send out invitations to new customers within your area of service in addition, HomeOwner Data Services, Inc. (EmailProLeads) is the list-serving company you can be sure to trust. We are the leading provider of timely and accurate homeowner lists for companies that are of any size, and are able to use these lists as a way to present themselves to families that are getting settled into their new home.

New homeowner leads from EmailProLeads include only homeowners who are new – those who have a good credit score as well as a steady income and want to build connections with companies like yours. These homeowners are already looking to spend as they move into their new homes and establish new relationships with local companies, which is why they are the ideal clients to contact immediately and directly. In actual fact, since the beginning of our company back in 1993, our company has watched many local businesses flourish and prosper due to our direct marketing campaigns they've employed using the latest homeowner data lists we've put together.

The majority of company that produces mailing lists compiles their direct mailing lists based on data regarding moving new residents, which results in sales lead lists with the addresses of those who might or might not be interested in your message. For instance, people who have just restarted their utility service or renters who have changed addresses, might already have relationships with the service or product companies in your local area and therefore be less likely to hear from your company. Affecting these families and individuals could not be the most effective choice for your advertising budget. Each new homeowner list we provide will include only people who are most likely to make business with you. This is because we utilize sophisticated proprietary data cleaning techniques to make the only owner-occupied, pure list of new homeowners available on the market. Additionally, our lists boast a an average deliverability of 94 percent which is the highest delivery rate of any comparable data company in the market.

Lists of marketing from different companies simply don't compare. In contrast to the majority of our competitors We do not ask you to sign to a contract. With EmailProLeads you can rest assured that we'll provide high-quality data and will always have the most accurate and current information about new homeowners, when you want it.