What is a CFO Email List?
A CFO email list is a curated collection of email addresses, typically gathered for promotional or engagement activities, of individuals and businesses predominantly interested in finance. These lists aid in campaigns targeting prospective customers or partners with financial interests.

How vast is your CFO email inventory?
Our CFO email list encompasses thousands of validated email addresses, covering diverse industries and demographics. The comprehensive nature of our list promises a broad reach for companies keen to engage with finance enthusiasts.
How are the prices determined for a CFO Email List?
Prices for a CFO email list are influenced by various factors including:
The volume of email addresses.
Specific targeting needs.
The desired industry or demographic.
Update frequency.
Any specialized requirements.
What advantages can businesses gain from a CFO Email List?
Companies can reap significant benefits from a CFO email list by:
Expanding their clientele.
Launching target-oriented promotional campaigns.
Boosting brand recognition among finance professionals.
Enhancing sales conversion rates.
Which online marketing techniques work best with CFO Email Lists?
Effective techniques include:
Tailored email campaigns.
Regular newsletters and updates.
Promotions of products or services.
Seeking feedback and conducting surveys.
Drip campaigns.
Which sectors get the maximum benefit from CFO Email Lists?
Most sectors can gain, especially:
E-commerce.
Technology.
Travel and tourism.
Real estate.
Healthcare.
How can firms tailor their CFO Email List?
Firms can modify their CFO email list by:
Choosing particular industries.
Targeting distinct demographics.
Filtering based on specific regions.
Segmenting by customer behavior.
How precise are your CFO Email Lists?
Our CFO email lists are scrupulously curated and routinely updated to guarantee the highest precision and to reduce bounce rates significantly.
Why do companies favor Emailproleads CFO Email Lists?
Companies opt for Emailproleads CFO email lists as they are:
Accurate and validated.
Extensive and diverse.
Consistently refreshed.
Adjusted for distinct promotional objectives.
Unlocking Opportunities with the Right CFO Connections
Every business thrives on the connections it builds. When we talk about high-level corporate connections, having access to the right CFO is invaluable. Emailproleads offers businesses the golden opportunity to make these crucial connections.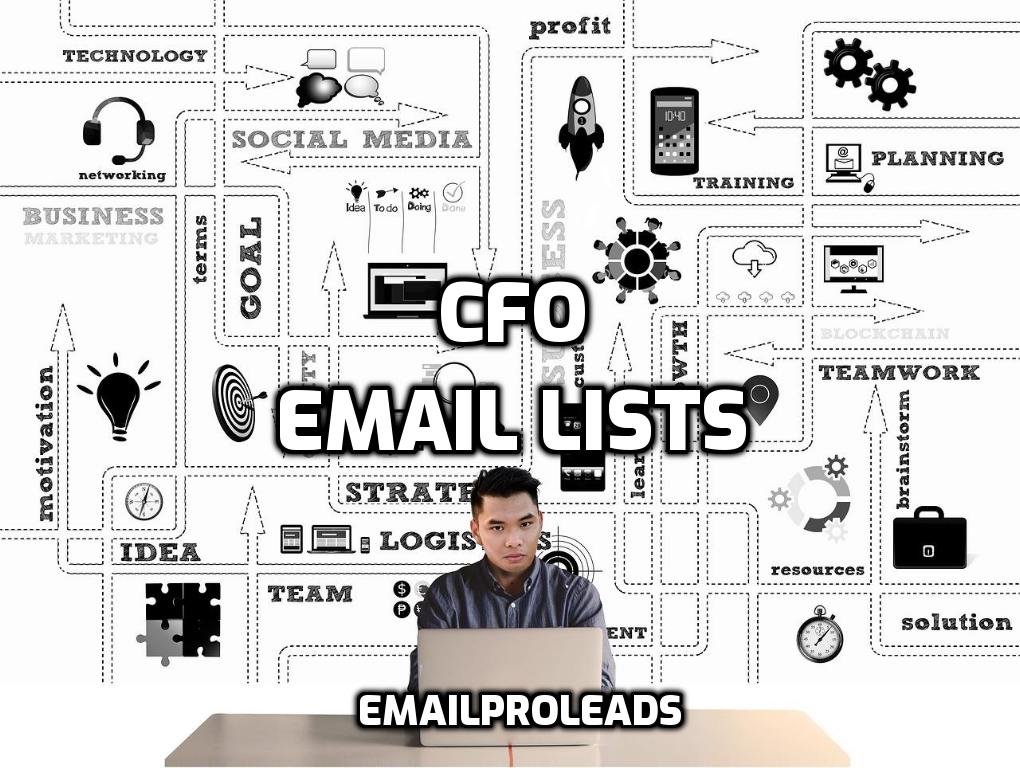 Supercharge Your Marketing: CFO Email Database
Imagine having access to a reservoir of top-level financial decision-makers. Our CFO Email database empowers Excitees to directly reach out to those who matter. Whether you have a solution or a pitch, getting it in front of the right CFO can be a game-changer.
Connecting Directly: CFO Email Leads
Why scatter your efforts when you can directly target? Emailproleads' CFO Email leads have been curated to help Excitees connect directly with key decision-makers. Every lead has been vetted for accuracy, ensuring higher conversion rates.
The Power of Targeted Mailing: CFO Mailing Lists
Access to an extensive list of CFOs.
Segmentation based on industry, location, and more.
Regularly updated to remove obsolete data.
Our CFO Mailing lists are not just lists; they're opportunities waiting to be tapped.
Dive Deeper into CFO Reach: CFO Email CFO
With Emailproleads, Excitees can explore our unique CFO Email CFO services, a specialized package that offers deeper insights and a tailored approach to CFO outreach.
Strengthening Call Center Outreach
For businesses where call centers play a pivotal role, having the right contacts can significantly boost outreach. Emailproleads has precisely what you need.
Specific Targeting with Call CentresCFO List
Why restrict your call centers to random outreach? With our Call centresCFO List, your teams can directly target CFOs who matter. This approach ensures a more precise, efficient, and effective communication strategy.
Enhance Outreach with Call CentresCFO Directory
Comprehensive data on CFOs relevant to call centers.
Easy integration with existing CRM systems.
Ensured accuracy and relevance of data.
The Call centresCFO Directory is not just a directory; it's a bridge to profitable connections.
A New Age of Customer Lists: Call Center Customers List
In the realm of call centers, every customer matters. With Emailproleads' Call center customers list, you gain access to a treasure trove of potential customers specifically curated for call center outreach.
Take a Step Ahead: CFO Email Data and Beyond
From CFO Email data to specialized lists like CFO Companies email list, Call center phone number list, CFO Mobile number list, and CFO Telephone number list, Emailproleads ensures that Excitees always stay a step ahead in their outreach endeavors. It's not just about data; it's about meaningful connections.
Exclusive Offer: CFO Email List Free Download
Yes, you read that right! Emailproleads offers an exclusive CFO Email list free download for Excitees looking to experience the quality of our services firsthand. A no-risk approach to witness the potential of the right connections.